Soundwaves
Barack Obama, Rachel Panay, The Killers, Depeche Mode, Franz Ferdinand, NYC's Day of the Dead Party
OBAMA POP... The pop stars are coming out loud, proud and in droves for Barack Obama. Of course, that's not really news. It'd be news if anyone you knew and listened to created songs or planned concerts for John McCain. Instead, McCain's camp has taken heat from Heart and Foo Fighters for using their songs at events. Jackson Browne even sued to force the McCain campaign to stop playing his song ''Running on Empty.''
No such bad news for Obama. Artists are lining up to compose and campaign for him. Even Boy George has surfaced in the cause. He may have been kept away from touring America this summer due to visa issues, but the Brit is still keen on our country -- or at least Obama. The gay Culture Club singer has created his own tune honoring the candidate. ''Yes We Can'' isn't nearly as inspiring as the message. But electronic music magazine Big Shot reports Pete Heller and Tom ''Superchumbo'' Stephan have both turned in remixes, so there's still hope.
D.C.-native Rachel Panay has released an optimistic dance-shouter ''Change is Just Around the Corner.'' Techno veterans Crystal Method have reworked its 18-year-old song ''Now is the Time,'' which they say was inspired by civil rights speeches, this time including a sample of Obama saying as much. And then of course there's the official compilation -- does McCain have an official campaign compilation? If he does, it surely doesn't feature Kanye West, Stevie Wonder, Jill Scott, The Eurythmics' Dave Stewart, John Legend, Sheryl Crow and other pop A-listers, as Obama's does. Available on the Obama website, Yes We Can: Voices of a Grassroots Movement costs $24.99 as a digital download or $30 for a physical disc.
Meanwhile, the Beastie Boys have organized a Get Out and Vote mini-tour, stopping in Richmond on Oct. 28 with Sheryl Crow, Norah Jones, Jack Johnson, Ben Harper and Santagold. Electro-rock oddbirds Devo will put on a rare show this Friday, Oct. 17, in its original hometown of Akron, Ohio to support the local Democratic party. Meanwhile, John Legend will perform at an Obama concert tonight, Thursday, Oct. 16, at Hammerstein Ballroom in New York alongside Bruce Springsteen and Billy Joel - reportedly the first time those two have ever performed together....
THE WITCHES OF NEW YORK... The weekend before you vote, of course, is Halloween. There's plenty of dress-up-and-dance options right here in D.C. -- and this year the actual date is on a Friday, no less. But if you can find your way to New York, you'd be in for a real treat (and if you're lucky, a trick too) that Saturday, Nov. 1, the Day of the Dead. The Springsteen and the Joel of gay clubland, you might say, are also performing together for the first time. Junior Vasquez and Peter Rauhofer will spin Saturday into Sunday at Roseland Ballroom, site of the notorious Black Party. The Saint-At-Large puts on that annual extravaganza, and they're also producing this Day of the Dead party, just as the original Saint nightclub used to do in the '80s. And just as with the Black Party, dressing-up is encouraged -- dancing is required -- at this party, dubbed Salem. It'll be a gay witch-hunt for sure....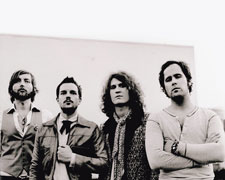 The Killers
THIN WHITE KILLERS... After an audacious attempt to become the next Bruce Springsteen and the E Street Band with 2006's epic arena rock album Sam's Town, The Killers, with its new Day & Age, are reportedly headed in a more David Bowie direction. Let's dance! Due next month, the new set finds the Utah foursome paired with one of electronic music's best producers Stuart Price, responsible for Madonna's Confessions on a Dance Floor and for much of the dance-rock you've probably liked over the past few years - though you may know the Brit better by the silly faux-French pseudonym Jacques Lu Cont. Or by Thin White Duke, Bowie's own nickname that Price has adopted for remixes in homage. Price also produced Seal's album System last year - probably Seal's best yet, though it was his worst in terms of sales. So hopefully Day & Age will fare better.
The Killers' first single ''Human'' is as club-ready as you'd hope - it's marked by a kind of nervous energy, as one nears a state of bliss - but the lyrics are as inscrutable as you expect from the Killers' Brandon Flowers. ''Are we human or are we dancers?'' Flowers sings. Even if he says ''denser,'' as some in blogland have suggested, it's still a bit of a head-scratcher. Billboard reports there's more where those lyrics came from, while it also noted the Bowie, Duran Duran, even Queen - did someone say British? - influences on Day & Age, set for release Nov. 25....
MORE FAST FASHION... Though still in the early stages of production, Depeche Mode plans to release its 12th studio album next spring. The untitled set is to be produced by Ben Hiller, the same man responsible for 2005's Playing the Angel, which was nowhere near the pleasure, little treasure of early Mode, but certainly its best in more than a decade. It was also the first to feature writing by lead singer Dave Gahan. He'll repeat the feat here on at least two tracks, Gahan reported to Billboard. The band will support the set, due in April, on a ''Tour of the Universe,'' hitting the U.S. next summer, dates to be determined....
TAKE ME OUT FOR MORE FRANZ... Franz Ferdinand was another band rocking for Obama at a ''Barack Rock'' event in New York. Yes, the band is Scottish, but, as they say, we are the world. Last week, lucky fans at a ''secret'' concert in Brooklyn got to hear several songs from the band's next album and the first in nearly four years, now expected in January. Named for the Austro-Hungarian Archduke who helped provoke the first World War, the Scottish foursome helped provoke the dance-rock genre - think The Killers and especially Scissor Sisters - when it emerged on the scene in 2004, wining the U.K.'s prestigious Mercury Prize and giving us the songs ''Take Me Out'' and the homoerotic ''Michael.'' The next year FF released You Could Have It So Much Better and ''Do You Want To.'' Now, the band has finally wrapped production on the follow-up, to be called Tonight: Franz Ferdinand. Billboard reports the new set is funkier and more R&B-influenced than the past output. The band's Alex Kapranos had said previously the aim was for a ''dirty pop'' record, gritty and edgy but still primed for dancing, and he told the British Independent newspaper that Africa and African rhythms are clear influences. ''The last record was...like a teenager having sex. This one's a bit more assured and a bit friendlier for the dance floor,'' he said....
---