Soundwaves
Worlds best DJs, new albums from Kylie Minogue and Abba's Agnetha Fältskog, more
DJ VANS WITH FANS... D.C.'s own Deep Dish is the 10th best DJ act in a new poll of the world's best DJs. The duo is virtually alone in representing America in the 2003 edition of probably the most celebrated DJ poll, as voted on by readers of the respected DJ Mag. But that can be explained in part by the European base of the British magazine -- and the European base of much of dance music, especially trance, which predominates here. The top DJ slot goes again this year to the Dutch Tiesto, who recently graced Washington with his presence. Nipping at his turntable's steel wheels are two fellow Germanic trancemakers, Paul Van Dyk and Armin Van Buuren. Both the Germany-based Van Dyk and the Netherlands-based Van Buuren have recently graced us with albums of all original productions featuring female and, for a change, male guest vocalists. The two albums testify to the ranking order of the DJs: Van Dyk's Reflections (Mute) is a more salutary effort, with a genre-defying collection of delectable dance-pop songs. This could be Van Dyk's bid for mainstream recognition, his first foray into traditional pop that reverberates more from a radio than from a club. Van Dyk's not-strictly dance-oriented pop sensibility is on sharpest display with "Time of Our Lives," where he collaborates with the band Vega 4. They jam out a Coldplay-esque electro-pop tune featuring a constant ticking of an alarm clock and enchanting vocals and piano playing from Vega 4's John McDaid. Van Dyk strays a bit, venturing into dub-heavy hip-hop on "Knowledge," though even here he performs above expectation.
Van Buuren's 76 (Ultra Records) doesn't surpass expectation, offering a collection of tracks that are the musical equivalent of church hymns for the raver-set: heavy on organ-styled keyboard riffs, angelic vocals, and melodies -- frequently lyrics, too -- that uplift through a haze of brooding, layered melody. The question is: is there still a raver-set to uplift? And why is he shushing us on the album cover? The music is as loud as trance from a decade ago, and sounds very much the same. At times, it slows down a bit, taking a page from modern-day chill-out. At other times Van Buuren follows Van Dyk in exploring dance-oriented rock. His "Yet Another Day" featuring Ray Wilson, is a blaring and moody trance number that quiets down every time Wilson takes to the mike with his plaintive vocals. "Someone take this pain away, I'm dying to see another day," he sings, as a lonely electric guitar gently weeps over his plight…
THE FIRST 'A' IN ABBA... There are still queens out there who play ABBA's Gold: Greatest Hits at every gathering at their house, or who unabashedly blast "Dancing Queen" from their car stereo. But even those with a more temperate interest in the sunny Euro-candy music of ABBA may be in for a treat next year. Agnetha Fältskog, the blonde of the quartet, is putting the finishing touches on her first album in sixteen years. Due in March -- at least in Europe, since an American label deal has yet to be confirmed -- with a first single planned for release in January, the album will be comprised of English-language covers of pop standards that inspired Fältskog. Obviously, the jury's out as to how much it will sound like ABBA of yore, especially since it's reported to be a collection of fifteen acoustic tracks recorded with a full orchestra. No other ABBA member is involved in the album...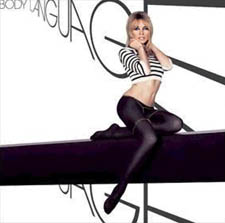 COME INTO HER WORLD… Can she get stuck in our heads all over again? We'll know by February, when Kylie Minogue drops the follow-up to her 2001 album, Fever. That album earned Minogue her first real success stateside since her silly 1988 remake of "The Loco-Motion." Out next week everywhere but the U.S., Minogue's Body Language hues to the same dance-pop sound that is her stock-in-trade. The first single, "Slow," has already been released in the U.S., but, reports Billboard, Capitol will hold the album until February 10, allowing time for Minogue to promote it internationally through the end of the year, giving her all of January to "lay the groundwork" stateside…
PEOPLE EVERYDAY SUE… The phrase "arrested development" was not coined by a pop act a decade ago, but a certain-named pop act is taking a page from Spike Lee as it seeks to arrest FOX-TV from using the name for a new series. "Use of the phrase will dilute the meaning of the band's name in the eyes of its fans," according to a suit filed last month in a Georgia court. It's reminiscent of Lee's failed attempt to stop cable channel TNT from changing its name to SPIKE-TV. But are there still fans of hip-hop group Arrested Development to be confused? Who knew the group was still together? It is, and a new album is due early next year, according to Billboard. Led by Todd "Speech" Thomas, Arrested Development has so far lived up to its own name, since its only hits, "Tennessee," "People Everyday" and "Mr. Wendal," all came from its one successful album, 3 Years, 5 Months and 2 Days in the Life of…. And that was the group's 1992 debut…
---