Youth Pride 2012: Youthful Measures
This year, D.C.'s special day marks its sweet 16th birthday with vibrancy. But since its birth, Youth Pride has thrived.
By Will O'Bryan
Photographs from the 2011 Youth Pride celebration at Dupont Circle by Ward Morrison
Published on April 26, 2012, 6:30am | Comments
(Page 3 of 3)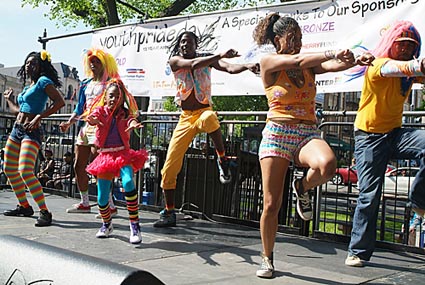 For the 19-year-old Lewis it's also about education, giving non-LGBT youth a chance to feel more comfortable about sexual-minority issues.
''Last year was my first time. I had fun, but I also learned a lot and networked,'' says Lewis, a senior peer educator at Metro TeenAIDS, who plans on bringing others to Dupont Circle this year for their first Youth Pride Day. ''A lot of people in our generation may not be gay or curious or bi or whatever, they may not understand youth who are.''
The celebration, the networking, the education – it's all exactly what Nikisha Carpenter, the 33-year-old president of the Youth Pride Alliance, says the day should be.
''It's all the performances and the dance afterward is great," says Carpenter. "But it's also an opportunity for a lot of organizations to see a lot of youth in our community. It's a great way to find out what's out there, like the Human Rights Campaign, SMYAL, the [National Gay and Lesbian] Task Force.'' She adds that when she joined the board in 2005, the intention was to grow both the alliance and its signature event. To that end, the most notable news these days is not the move back to the circle, but ways D.C. authorities have stepped up support.
''Support from [Advisory Neighborhood Commissions] 1A and 2B has been great," notes Carpenter. "And support from the D.C. Office of Human Rights. That's really helped us move forward and grow the last two years. Our goal next year is to put on 10 to 14 events during the year.''
Dyer is certain Youth Pride Day has made its mark – and will continue to do so.
''Youth Pride has been effective in the sense that it provides a safe space for young people to come together,'' says Dyer. ''The issues we were addressing 16 years ago – like LGBT homelessness and suicide ideation and depression and substance abuse and all these challenges that young people face – they're still facing now. Things are still ridiculously tough for LGBT people as they come out, but I'm struck by the resiliency of the community.
''And I'm incredibly proud," he continues. "It amazes me that what was just a crazy idea, they've been able to maintain every year. Youth Pride Day has become part of the cultural landscape of D.C., the kick-off for Pride season. It's just absolutely amazing.''
Youth Pride Day is Saturday, April 28, in Dupont Circle, noon to 5 p.m. Rain date is Saturday, May 12. Infatuation Dance, April 28, is 5 to 9 p.m. at Patty Boom Boom, 1359 U St. NW, 21 and younger, $3. For more information, visit youthpridealliance.org.
See our Scene archive for hundreds of Youth Pride photos from 2011, 2010, 2009, 2008, and earlier years.
Also, video from the 2011 Youth Pride Day:
---