Cameras have a tough life. Tasked with ensuring every memory is frozen in time -- a child's first day at school, a beautiful sunset on the beach, the naked torso of the hot guy dancing with you at the club -- they must recreate each frame as if we were viewing it in person, regardless of time or setting. Picking the right one for the job can be hard, but it needn't be. If you have a partner who's relying solely on their smartphone for image capture, or a friend desperate to take their photography to the next level, then give them something that will do justice to that macro shot of a flower, or the awesome shape that formed in their coffee foam. Beginner to advanced, budget to dedicated, we've got you covered, so strike a pose and read on.
Sony Alpha NEX-7 - The NEX-7 is not for beginners. Sony has aimed this, their most expensive compact camera, squarely at advanced photographers, and those whose interests lie beyond Instagram images of their lunch. Its core specs will whet the appetites of any camera geeks – 24.3MP APS-C CMOS sensor, 1080p recording at 60fps, a half-inch 1024x768 OLED electronic viewfinder (the highest resolution in any stills camera), 3-inch LCD display that can be tilted for use at different angles, interchangeable lenses, 0.02 second shutter lag, stereo mics, infra-red remote receiver and three dials for greater control over camera functions. If any of that didn't mean anything to you, don't worry, you could still buy the NEX-7 and take the best photos you've seen in a compact, but you'd be missing out on so much that this camera is capable of. The NEX-7 is Sony at its best, delivering a camera that could entice many DSLR users down into the compact range, without having to trade image quality for portability. The only downside? This much technology comes at a price – a steep one. The NEX-7 starts at $1249 with an 18-55mm lens.
Samsung Galaxy Camera - Have you ever wondered what it would be like to take the best parts of a smartphone – the screen, processor, apps, sharing functionality – and combine them with a compact camera? Samsung has, and with the Galaxy Camera, they've answered a question that few would probably have asked, but many will now want. Taking everything that is great in the Galaxy S3 smartphone – its 1.4GHz quad-core processor, 4.8-inch 720p display and Android 4.1 JellyBean OS – Samsung proceeded to squeeze them into the body of one of its Wi-Fi enabled compacts. The result is something truly unique. A 16.3MP BSI CMOS camera with optical image stabilization, 21x optical zoom, 1080p recording up to 30fps, 120fps video at 768x512, Wi-Fi, HDMI, and GPS. Fairly standard compact camera specs, but it's in its software that the Galaxy Camera proves its worth. Take a photo, and you can edit it using the built-in Paper Artist app, or load up Instagram and make that pin-sharp photo blurry and grainy – because it's art – or upload it to Facebook, tweet it, open it in Photoshop mobile, email it, or send it to a friend. Built-in LTE on Verizon and AT&T means you don't even need to be near Wi-Fi to share your images. Galaxy Camera even has voice control, so you need only shout "Cheese!" and it'll take a photo ("Smile!" is also acceptable). Finished shooting? Play Angry Birds, check your email, watch a film, share your videos and pictures wirelessly with a TV… you name it, Android enables it. It's a breathtaking re-imagining of what a camera is capable of from a social and editing standpoint, and it's more than worth the initially steep asking price. $499 with an AT&T contract, or $549 on Verizon, not including data charges.
Nikon Coolpix L610 - The Coolpix could be mistaken for a typical compact camera — easy to use, small, light, and with the usual pared down features. Except there's nothing really pared down here. With a 16MP NIKKOR ED lens, CMOS sensor, 14x optical zoom, 2x digital zoom, vibration reduction, motion detection, a 3-inch anti-glare LCD, 1080p recording and ISO 125-1600/3200, Eye-fi support and a macro mode that works as close as half an inch away, it's a powerful device. It offers 19 specialized scene modes, a smart portrait system, special and filter effects to apply to your images and — perhaps most importantly — it's powered by standard AA batteries. This is either a good or bad thing, but being able to carry a few spare AA's as opposed to expensive proprietary batteries is certainly convenient, if a little '90s. It's a neat little package, available in black, red or silver for just $149.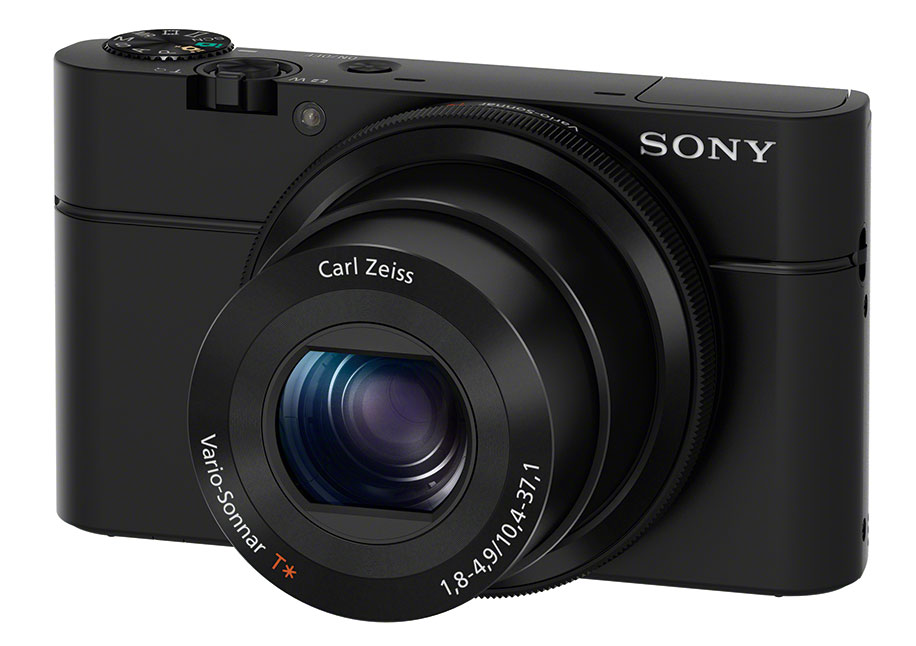 Sony Cyber-shot RX100 - One of the slickest compact cameras available, the RX100 is crammed full of tech to get the best out of every image. A sleek, minimalist body that almost borders on mundane conceals a 20.2MP 1-inch Exmor CMOS sensor, Carl Zeiss Vario-Sonnar lens with control ring, 3.6x optical zoom, RAW image capture, ISO 125-6400, 1080p video at 60fps, P/A/S/M modes, 3-inch LCD, and a whole host of intelligent software features to guide users to creating the best possible image. Beginners can use iAuto mode, which will handle all of the back-end selection to ensure every image looks great, while more advanced users can switch to manual mode and enjoy full control over every aspect of image capture. Prompts will also appear on-screen to help teach aspiring photographers how to use the features available -- very handy for those eager to further their creative abilities without needing outside help. The EX100 is one of the best compact digital cameras on the market, though you pay for the bragging rights, as it's currently retailing at $649.
Fujifilm XF1 - Looking for style without losing substance? Fujifilm's XF1 has a 2/3-inch 12MP EXR-CMOS sensor, 4x optical zoom, optical image stabilization, a mechanical zoom ring, ISO sensitivity up to a staggering 12800, 3-inch LCD, RAW image capture and Full HD video amongst its numerous features, but it's the aluminum and synthetic leather design that'll draw you in and make you weak at the knees. Available in red, tan and black leather, the stunning compact manages to feel both retro and modern at the same time. It's a beautiful piece of hardware that eschews the black plastic trend of its peers and is all the better for it. Available for $499, it's perfect for the style-conscious photographer.
GoPro Hero 3 - The GoPro Hero 3 is a tiny, wearable camcorder that shoots 12MP stills, up to 4K resolution video, and has a modular design that allows various accessories to be used. Need a touchscreen? Clip on the LCD Touch BacPac. Need to go diving? Add a waterproof housing. Need longer battery life? Attach a Battery BacPac. It's a unique approach to wearable cameras, and that the GoPro manages to be so small and light and still produce such great stills and videos is special even without the ability to change and adapt it's functions through the attachable accessories. An even cooler function is the free GoPro app, available on iOS and Android, which connects to the GoPro via WiFi and enables the smartphone or tablet to be used as a live video remote, displaying whatever the GoPro is currently shooting. Starting at $199.99 for the White Edition (limited to 1080p video and 5MP stills), and rising to $399.99 for the full 12MP/4K Black Edition with WiFi remote.
Read the 5 Days of Techmas - A Holiday Gift Guide: Smartphones.