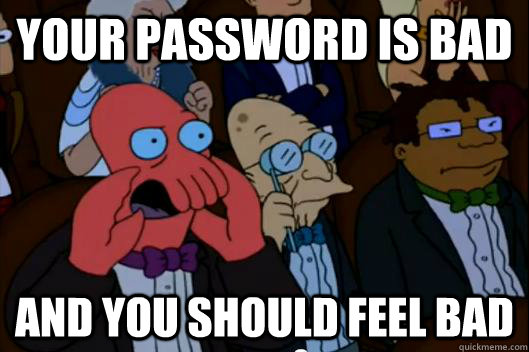 C'mon, people. For every security blunder at a major firm that leads to millions of users' passwords being leaked, there's hundreds of thousands of other instances where thiefs and ne'er-do-wells can digitally waltz into a person's online data due to ridiculously inept password choices. It doesn't take a computer genius to try Password1, or your last name backwards, which is why so many sites now suggest or demand a more robust password choice.
That's why it's ridiculous to see so many people still using horrendously obvious passwords. Thanks to the major leaks and hacks of 2013 -- Adobe, anyone? -- SplashData were able to collate a list of the year's most popular password choices. For the first time since time immemorial, "password" is no longer the favored option for those seaking to seal their data.
Nope, instead, the second-most obvious choice has moved into first place. Welcome, people, the new idiot's password of choice: "123456".
Look, passwords can be tough if you don't have a great memory, but it's so easy to create a strong one. Instead of complex strings of letters and numbers, pick a series of four words that you will remember -- "charismauniquenessnervetalent", for instance, is going to be much harder to crack and is the format recommended by many security professionals. XKCD outlined it in one of their infamous comics, for those who need a visual explanation.
Remember: passwords are tough, but rebuilding a digital life or refilling a bank account after a hacker takes control of it is much tougher.
The top 10 passwords:
| | |
| --- | --- |
| 1. | 123456 |
| 2. | password |
| 3. | 12345678 |
| 4. | qwerty |
| 5. | abc123 |
| 6. | 123456789 |
| 7. | 111111 |
| 8. | 1234567 |
| 9. | iloveyou |
| 10. | adobe123 |
Also, shout out to anyone who got the RuPaul reference. You're officially awesome.