" OK, now time visualizing you," Geri Halliwell exclaims down the phone from her record company's Toronto office when she realizes that her interviewer his a fellow Brit. "and I'm visualizing you looking like – What's his name? – Rupert Everett."
Of course, the interviewer needs to help in visualizing Geri Halliwell. With that highlighted mane of strawberry blonde hair, those sexy union jack addresses and trademark platform trainers, Geri Halliwell – a.k.a Ginger Spice – put the spice and The Spice Girls. That is, until May of last year, when Halliwell abruptly quit the band on the eve of their U.S. tour.
Now Halliwell is back with eight debut solo album, Schizophrenic, and a cleaner, fresher, Ginger-free image. However, as this conversation demonstrates – " you sound lovely, actually. If only you were straight" – you can take Geri Halliwell out of The Spice Girls, but you can't take the space out of Geri Halliwell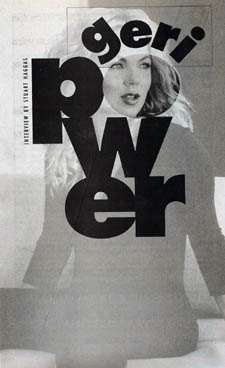 Geri Halliwell
METRO WEEKLY: Let's first discuss her single, "MI Chico Latino." Now that artists like Ricky Martin Jennifer Lopez are making the Latin sound crossover and a big way, critics might say you're just a white girl jumping onto the Latino-music bandwagon. But you were actually got some real Spanish heritage, haven't you?
GERI HALLIWELL: Yep, my mother's Spanish. That makes me half. Nothing is, I think I must have gotten lucky, because I've wrote this song a year ago. And, unless I'm a psychic, I didn't know the Spanish wave was coming. I mean, I think if music is good, it's good. It shouldn't matter what the title of a song is. And
METRO: In fact, use often brought a bit of a Spanish influence to your music, even with The Spice Girls, with checks like "Spice Up Your Life" and "Viva Forever."
GERI: Yes, I did. We even recorded a version of "2 Become 1" in Spanish.
METRO: In the video for your other solo single, "Look At Me," there's this brilliant bit – the funeral processions seen – when everyone starts to cry, and we realize they're crying because Ginger, your Spice Girl persona, is in that coffin. Was the scene your idea?
GERI: Everything I2, whether it's from the start of writing a song, to the art work, to the video ideas, all comes from me. And I have mad the ideas the whole time. I like to have a sense of humor about everything as well.
METRO: So, Geri killing Ginger was tongue-in-cheek?
GERI: Oh, totally!
METRO: Was it a relief to kill off Ginger in this video?
GERI: I wasn't really killing her off. At that time, everyone was saying, "Is Ginger dead?" So I was just laughing at that aspect.
METRO: In the video, when the coffin is opened and we see that Ginger's alive and laughing, she's wearing ruby slippers. This reminds me of the wicked witch from The Wizard Of Oz. Is it that the image you were aiming for?
GERI: No. I'll tell you where that came from. Have you ever seen the film The Red Shoes? It's a ballet. And, basically, every time the starlet puts on the shoes they overtake her. She's very ambitious –the shoes symbolize ambition. And in the end – the film's got a traumatic, camp ending – she falls onto these railway tracks and is killed by the train. And the red shoes are all to blame. So there's a bit of symbolism in that.
METRO: In space "Look At Me" you saying a great gay line: "I'm a drama queen." Are you a drama queen?
GERI: Yes. I think we can all be drama queens. With "Look at Me," I was trying to say that we shouldn't take each other on just face value. We can be anything. We can be all of these people. We can be mothers, lovers, drama queens, divas, vulnerable. We can be pathetic, we can be brave, we can be fearful.
METRO: Talking about drama queens has reminded me of another type of queen: the drag queen. Now, drag queens all over the world mimic The Spice Girls and their routines. And, naturally, Ginger will always be part of these groups do you have any advice for those drag queens who "do" Ginger?
GERI: Someone told me about a lookie-likie group who do The Spice Girls. They will do all the songs with Ginger still allowed in, but then they turn it into a kind of lookie-likie soap. And because then Ginger goes: "I'm leaving!" So then the other four go, "Ooohhh!" And then they saying "goodbye." And then Ginger bounces back, and has her own bit and sings, "Look At Me."
METRO: Everyone has their favorite Spice Girl. And Ginger S always seemed to be the most popular Spice Girl within the gay community. Why do you think that was?
GERI: Maybe because she likes to dress up, and she has a sense of humor. She's flamboyant. And also I think there's a sense of the underdog with Ginger, who then comes through with bravado.
METRO: So, you think the gay community always likes to back the outside bet?
GERI: Yes, I think so.
METRO: You've recently recorded a track "G.A.Y.," dedicated to the huge London gay club of the same name. How did this come about?
GERI: It was one of the first gigs I ever did, and there was just such a brilliant vibe in that club. I had this song kicking around in my mind for ages – it's sort of just came to life. And also G.A.Y means "Good As You," good as you want to be. And I love that. There's something about a gay crowd – liberated and free and warm. I like the attitude.
METRO: Do you ever regret leaving The Spice Girls?
GERI: I don't know if I regret leaving. I Wish I'd done Wembley Stadium and, you know, finished the tour. Obviously, it's a security blanket, being in a band. You got back up. And if it all goes wrong there's five of you to take the rap. But leaving has liberated me, I have to say.
METRO: I was disappointed that by the time The Spiceworld Tour hit Washington, D.C., You weren't in the band anymore.
GERI: That's the only thing. I felt guilty to the fans, actually. I thought it's like when parents get divorced. The only victims of the situation are their children.
METRO: But you didn't stay away from the music industry too long.
GERI: Only a year. I wanted to come back. I'd always been very creative within the band. When I left, I was writing immediately. And I love having that the output.
METRO: I understand you're close friends with George Michael.
GERI: I am, yes.
METRO: As part of Wham!, George was immensely successful, yet managed to become an even bigger and better as a solo artist. What kind of support or advice has he given you?
GERI: Emotional support. He did say to me: "Take your time. Make sure your record is good. People will wait for you, Geri." And he likes my music. I always play it for him. He's a real perfectionist, so he always gives me constructive criticism, which sometimes I don't want to hear. But I'm really grateful to have such an honest friend.
METRO: And do you offer him advice in return?
GERI: Oh, I do, yes. I'm very frank with him.
METRO: So, what of Marcello Rodriguez, the cop who arrested Georgia in the restroom, the cop who's now suing him – claiming he was inappropriately depicted in George's "Outside" video?
GERI: I think it's a load of bullocks. I've never heard anything so crazy in my life.
METRO: If this case goes to court, will you offer your services as a character witness?
GERI: I don't think it'll go to court… I don't think we should be talking about this, actually.
METRO: Okay, let's change the subject. Now, after you left The Spice Girls, they released their single "Goodbye," which they said was written as a fond farewell to you. Did you appreciate this gesture?
GERI: [Laughs.] No! Because I was there when we first row that! I mean, I appreciate the sentiment of it. Of course, it was nice having a song dedicated to you. The feeling of that is great, but…
METRO: But unless their psychic as well, they couldn't have possibly anticipated that you were going to leave when you all wrote that track?
GERI: "I Will Survive." [Laughs.] That's a joke, by the way!
METRO: Now that you're a solo artist, what does The Spice Girls famous slogan "Girl Power" mean to you?
GERI: I think it's evolved into something deeper. Everyone has their own interpretation of the word, but I think mine has gone into "Real Power," "People Power," "Black Power," "Gay Power," "Woman Power." "Willpower," probably.
METRO: Willpower. That's a very good. And, while we're talking about the power of Geri Halliwell, I understand you also become a Goodwill Ambassador for the United Nations. How did that come in about?
GERI: They just asked me.
METRO: And what have you done as a Goodwill Ambassador so far?
GERI: I did this big trip to the Philippines, bringing awareness to the fact that everybody deserves the same health and reproductive care at least the right to choose, it's not about dictating. You know, there's a big population explosion out there. I'm not trying to be Imperialistic, because they've gotten their problems, but the great thing was that after we campaigned around there, the government gave money to set up clinics.
METRO: Does "Girl Power" played a role in your UN work?
GERI: I think so, yes. I've grown a little bit, and I just felt that I needed something to feed a part of my soul, to have waits to keep my feet on the ground. You see, people gave me fame and I want to do something constructive with that fame. I can neither jump restaurant queues, or I can do something good with it.