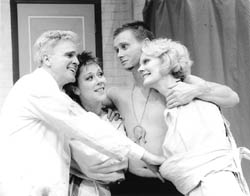 Nuclear Family: Reese, Harris, Frith and McGinn
(Photo by Carol Pratt )
Even if you've seen productions of What the Butler Saw, the final play completed by British playwright Joe Orton before his lover Kenneth Halliwell murdered him in 1967, it's unlikely that you've seen any polished to the delightfully near-blinding sheen displayed now at Signature Theatre.
All of the company's formidable creative jets are firing full-force in Orton's savagely funny attack on virtually every institution and convention in sight: government, family, psychiatry, patriotism, and sexuality, to mention his primary targets. And despite the work's unapologetic entrenchment in the curious culture of 1960s England, Orton speaks with eerie prescience to the prevailing sentiment in 2002 America — that things are screwed up and corrupted beyond recognition, nothing makes sense anymore, and we're all going downhill toward destruction…fast.
Were this a new play, that could be downright depressing. But liberated by the thirty-plus years of space between us and Orton's world, we're free to revel in the play's intricately subversive humor that's exceptionally executed by Signature.
The brightest star of the show, not surprisingly, turns out to be New York director Jonathan Bernstein, making his local debut. The potential directorial nightmare presented by the sheer amount of stage business alone — a constant swirl of slamming doors, instantaneous costume changes, and props for days — becomes a heady, effortless dream in Bernstein's capable hands. Yet he far exceeds such perfunctory demands and sets a brilliantly bizarre tone for the talented performers at his disposal.
In that regard, Conrad Feininger stands out with an exhaustively complete read of Dr. Rance, the government inspector who seizes control of a private asylum run by Dr. Prentice (Kevin Reese). Feininger makes it hysterically clear that Rance isn't merely mad with power, he's just plain mad, and the fine actor never loses control of an increasingly out-of-control character.
Deanna Harris, Daniel Frith and Tony Gudell are first-rate foibles in the roles of, respectively, a temporary secretary, bellhop and police sergeant drawn unwittingly into the morass of mayhem orchestrated by Dr. Rance and the hapless Dr. Prentice, who's merely trying to hide an aborted attempt at adultery from his nymphomaniacal wife (Maura McGinn) who clearly wouldn't care in the first place. Reese gives Dr. Rance the perfect air of strait-laced respectability underneath which lurks schoolboy naughtiness, and the statuesque McGinn — suggesting a mix of Lynn Redgrave and AbFab's Patsy — is quite amusing in her take on a ball-busting, malcontent spouse.
As if all this wasn't wonderful enough, designer James Krozner delivers the finest set in Signature's recent history. Dominated by a simultaneously pleasing and unnerving shade of institutional pale green, Krozner expertly evokes both Dr. Rance's study and the seemingly endless expanse of corridors and grounds that surround it. It's a perfect playground for the director and actors to shape a tumultuous world from which there's seemingly no escape for the characters, and the overall production proves to be a wonderful escape for audiences who enjoy thought-provoking antics.
Through Oct. 13th at Signature, 3806 S. Four Mile Run Dr. in Arlington. Tickets are $20 to $32. Call 703-218-6500.