[CRITIC'S PICK]
Sunday, Oct. 27, 2 p.m.
Lincoln Theatre, $9





At last, a collection of shorts worth almost every moment of your time. In Ian Iqbal Rashid's Stag (




), a groom-to-be awakens to find that, on the night before his wedding, he's slept with his hunky best man. The interchange between the two is swift and peppy, and the movie takes a realistic road rather than a gay-idealized one. Target Audience (





) is an absolute delight about a stoned kid (whose passed-out pal lies at his feet) engrossed by a late-night infomercial aimed at recruiting people into the gay lifestyle ("Gays have more friends, more money, better jobs!" the announcer trumpets. "They're a core group of elite people!"). The film, expertly directed by David Kettredge, concludes with just the right spark.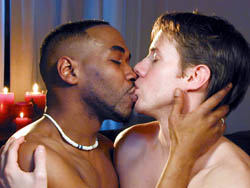 Target Audience
The Moment After (





) impresses with its deft shifts of place, time and circumstance, as a birthday boy on a celebratory binge relives the darker instances of his life. And Breakfast (




) finds the geeky Boris, in it for love, infatuated with his frisky pal Till, in it for a quick sexual fix. It's solidly acted and beautifully filmed, but resolves itself in a rather lackluster way.
The series deteriorates slightly with Space 2 (

), a tedious, near-pornographic entry from Spain that is not merely satisfied with being dull, but strives for being the most monstrously dull film of all time, and The Last Blow Job (

), an odd quirk of filmmaking that is every bit as moronic as its title suggests.
Redemption arrives at the hands of Into the Night (





), an Australian film about a street hustler whose encounter with an older gentleman is compelling, mournful, and subtle. It's as close to perfection as a short film can get.