Friday, Oct. 18, 7 p.m.
Lincoln Theatre, $9




Antonia's life would seem to be perfect. When not working at the hospital as a nurse giving HIV test results to married men, she shares a fabulous home with her husband Massimo. Even when Massimo is late or misses a date, Antonia remains cheerful, even fending off the enthusiastic offer of an adulterous affair from a handsome stranger who befriends her as she awaits her husband.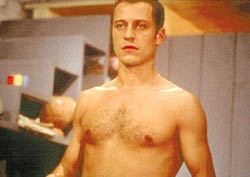 His Secret Life
Then Massimo is hit by a car — multiple cars actually, in a strange use of computer effects for a drama — and Antonia finds herself on a journey through the looking glass. Evidence quickly surfaces that her beloved was having an affair.
The first thirty minutes or so of the film contain no suspense whatsoever, given that it's a big name feature at a gay film festival, leaving the audience twiddling its thumbs waiting for Antonia to hurry up and catch on already. As her husband's lover Michele finally blurts out in exasperation, "Do you need subtitles?"
But this is, after all, a movie about lies, in particular the lies people tell to protect their loved ones — and themselves — from pain, those lies that are simultaneously selfish and caring, yet still contribute to greater pain down the road.
The remainder of His Secret Life tracks Antonia's discovery of Massimo's other family of gays, transsexuals and political refugees, and the discovery of her own secret life as she becomes a part of that family. It's all very, very Lifetime — even with the scads of gorgeous Italian boys and a brief scene of a three-way — and you can easily see, say, Judith Light stepping into Antonia's role in an American version.
His Secret Life hints at various stories and subplots along the way (will the transsexual friend reunite with his biological family?) but many remain unfinished as the film focuses on Antonia's journey. Still, that journey is an illuminating, if not ultimately fulfilling, one. — Sean Bugg