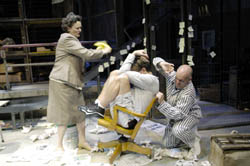 Fighting back: Robinette, Lodge and Forrest
(Photo by Stan Barouh)
It's easy to see why Round House Theatre has returned to the George F. Walker well to retrieve Love and Anger for a second time. (The play marks the venerable company's ninth Walker effort, making the Canadian the most produced playwright in Round House's 25-year history.) The darkly comedic examination of corruption, revenge and redemption still speaks forcefully to the imbalance of power between rich and poor, and the revolutionary potential among the culturally marginalized.
Leading a revolt of sorts in Love and Anger is Petie Maxwell (Jerry Whiddon, reprising his role from the 1991 production), a big-city lawyer who, after suffering a stroke, dedicates himself to fighting corporate greed and shady politics in the name of people such as Gail Jones (Thembi Duncan), a young black woman who turns to Petie in her fight to free her husband from jail.
The thing is, Petie isn't exactly in top form. His damaged brain threatens to conk out at any moment. Plus, Petie's new mission in life, noble as it may be, doesn't preclude his reliance on the same kinds of unethical trickery he employed when he was self-serving. It makes for quite the complex, demanding character, and Whiddon steps up to the plate to hit a satisfying homer. His Petie is simultaneously off-putting and likable, careening toward an uncertain fate with gleeful abandon because, having given away everything that's not already been taken from him, he has nothing to lose.
Petie's chosen archenemy is Babe Conner (Michael L. Forrest), a tabloid magnate who both exploits the underclass for profit and extols civic policy designed to destroy them. Babe's legal eagle is Sean Harris (Marty Lodge), Petie's former partner who aspires to elected office using Babe's ill-gotten gains to fund his campaign. Like Whiddon, Forrest and Lodge succeed in making their characters likable in spite of glaring moral flaws. Forrest is an especially charismatic stage presence who commands rapt attention.
On Petie's side in his war with Babe and Sean are his frazzled secretary Eleanor (Nancy Robinette) and Eleanor's schizophrenic sister Sarah (Sarah Marshall), as well as his lone client Gail. Robinette is superb, as usual, showing us a woman who is clearly at her wit's end, yet still fiercely dedicated to those such as Petie and Sarah, whom she deeply cares for. Marshall is a bit cartoonish in her take on Sarah, crafting the character with the same kind of wild-eyed mannerisms and hippie-chick style we've seen from the actress in other productions in recent seasons. Walker's work can certainly withstand Marshall's broadness, and may, in fact, demand it. But it does call into question how much original effort Marshall has put into this characterization and how much of it is merely her shtick.
Duncan makes a pleasant Gail, and one can't exactly blame either her or director Daniel De Raey for steering clear of too intricate a take on the character in the light of the substantial performances that fill the stage. However, Duncan and De Raey have compensated with an oversimplified Gail who lacks a tangible sense of passion, especially when Walker pulls Gail into strange spiritual territory late in the play when Petie faces death. A few problems are easily forgivable, though, in a production that can embrace Walker's expansive and sometimes-didactic approach and make it consistently funny and enjoyable.  
Through Oct. 13th at Round House Theatre, East-West Hwy. and Waverly St. in Bethesda. Tickets are $10 to $36. Call 240-644-1100.