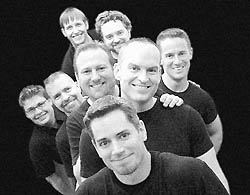 Great eight: the cabaret ensemble
(Photo by GMCW)
If I had to pick a favorite moment in Stops Along the Way, I'm not sure I could. With twenty-two numbers in this cabaret co-production by the Gay Men's Chorus of Washington, D.C. and Zebra Stage, there's not a clunker to be found. There are so many soaring, exquisite, spine-tingling moments to relish, any music-lover should walk away quite happy.
Under the stage direction of Jarrin Davis and music direction of Jeff Buhrman, Stops Along the Way favors less widely known songs from the musical theatre and cabaret repertoires, so there's an added level of joy in discovering an array of witty and wonderful compositions. Naturally, the on-stage talent is imperative to the experience, and an ensemble of eight — Peter Fox, Joel Furtick, Martin Good, Jeff Hamlin, Jeff Mace, Terence Powers, Michael Brendan Smith and Owen Taggart — definitely has what it takes.
Mace sets a pace of quality for the cabaret with the first solo spot, opening "There's a Kid Inside" from the under-appreciated 1982 Craig Carnelia musical Is There Life After High School? He conveys the perfect plaintive, warm tone to complement the hook-laden song's striking reflection of fear and self-doubt that everyone experiences, no matter how "mature" we supposedly become. The number also plays an important role in establishing the cabaret's theme of exploring notable life moments — teenage crushes, coming out, dating — from a gay perspective.
Fox brings a sweet innocence to the lovely Bob Merrill number, "Dance with a Boy," before returning to the stage later in the first act with Good for a musically and emotionally moving exploration of potential romance in "Here," a song by Alfredo Alvarez and Jeff Dobbins that paints a stark contrast in perceptions of the same moment two men share in bed after their first date. The scene is punctuated gently with the gifted Hamlin at the piano for a gorgeous, self-accompanied rendition of "Time Stands Still" by Steve Dorff and John Bettis. (Otherwise, save Hamlin's turn at "Here," accompaniment duties are exceptionally well-handled by Paul Leavitt.)
Act II highlights include Mace and Powers on the reliable Maltby and Shire's "It's Never That Easy/I've Been Here Before," with the musical thrust of the duet falling to the capable Powers, who handily sells the memorable hooks and radiant tenor lines thrown his way. Mace later gets his best moment with David Friedman and Alix Korey's "You're There," a poignant homage to moving on after a partner's death.
Stops Along the Way's leaders in lighter moments are the comedically adept Taggart, Furtick and Smith. Taggart pulls off nothing less than a showstopper with his hysterical take on Amanda McBroom's "Tell Me What You Want," a clever look at the pitfalls of unbridled honesty in relationships. And Furtick and Smith are charming as exasperated boyfriends in Mary Rodgers's lyrically sparkling "At the Same Time."
Hamlin gets another shining moment in another Bob Merrill charmer, "Stay with Me," and the cabaret culminates with a richly harmonized arrangement of David Friedman and Clarissa Dane's anthemic "As Long as I Can Sing," performed by the full ensemble. It's a grand end to a grand evening.
November 15, 16, 22 and 23 at 8 p.m.; November 17 and 24 at 3 p.m. At the Rosslyn Spectrum Theatre, 1611 North Kent Street in Arlington. Tickets are $20. Call 202-432-7328. Visit www.gmcw.org.