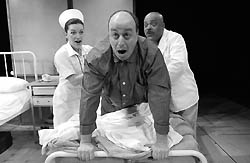 Probing for answers: Mendenhall, Roy and Brown.
Photo by Stan Barouh
Existential farce.
Now there's a couple of words to strike terror in the heart of even the most stalwart theatre fan. But fear not. In the dependable hands of Woolly Mammoth Theatre Company, Don DeLillo's The Day Room proves to be a wildly fun ride, even if it ultimately takes more delight in befuddling the audience than rewarding us with enough information to unlock its scintillating puzzles.
That's not to say theatre should always be about pat answers. Where's the fun in that? But you still can't help feeling ever so slightly cheated when DeLillo's theatrical meditation on sanity (or lack thereof) reaches its conclusion with a tangible sense of, "There's something important we're not telling you."
It all begins innocuously enough, with the budding relationship between two strangers, Budge (Grover Gardner) and Wyatt (Rob Leo Roy), stuck together in a semi-private hospital room. An elderly patient, Grass (Michael Russotto), wanders in, spouting off various colorful statements until Nurse Walker (Jennifer Mendenhall) swoops in to return him to the nearby psychiatric ward from which he's apparently escaped.
Nurse Walker is soon joined by Dr. Phelps (Doug Brown), and their appearance of professionalism unravels until they're revealed to be mental patients, too, by Nurse Baker (Denise Hart). Budge and Wyatt are shocked that regular patients like themselves could be subjected to such fraudulent behavior, but as the play continues, nothing about the hospital, its patients, or its staff is what it appears to be.
Director Howard Shalwitz keeps the shenanigans under tight, finely tuned control, making the formidable task of navigating DeLillo's complex theatrical territory feel effortless for actors and audience alike. The cast shines in such an environment, keeping you solidly engaged with polished and skilled comic performances, no matter how surreal the action becomes.
And it does become quite surreal, thoroughly upending notions of sanity and artifice within the familiar, normally comforting surroundings established on stage. But it's all easily entertaining enough to forgive The Day Room's philosophical pretensions that insist on teasing while pleasing.
Through Jan. 12 at the Kennedy Center AFI Theater. Tickets are $10 to $38. Call 202-393-3939. Visit www.woollymammoth.net.