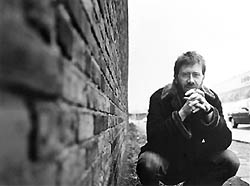 Trey Anastasio
Millions of people heard — and continue to hear — the worst album of the year. Very few heard the best. Maybe this is nothing new, but Phish frontman Trey Anastasio's lone solo effort would have trampled Sheryl Crow's horrendous — albeit lucrative — album in a rational world. Then again, if the world were rational, Eminem wouldn't be such a brilliant lyricist while being such a dumbass in every other possible sense, and Liam Gallagher would just go away.
In 2002, we began our tentative return to a more familiar insanity. Ani DiFranco reemerged from her slow jazz tangent and got back to the business of rock. Billy Bragg disgraced his activist roots with a campy joke of an album. Lauryn Hill lost her sass, sat on a stool with an acoustic guitar and literally wept. Sonic Youth proved that No Wave is still relevant, while Weezer convinced us that they are indeed not.
Overall, the best music this year tended to be the most honest. Sheryl, Lauryn, Billy, Dot — everyone seemed to be straining to reinvent themselves, to "take it to the next level. "
Thanks, but spare us. The best artists this year may have shifted gears, but they held their general direction, and managed to resist the urge to kowtow the trends. Ten stand out in particular.
THE BEST
1. Trey Anastasio: Self Titled (Elektra)
2. Eminem: The Eminem Show (Interscope)
3. Aimee Mann: Lost In Space (Superego)
4. Ani DiFranco: So Much Shouting, So Much Laughter (Righteous Babe)
5. Badly Drawn Boy: Have You Fed The Fish? (BMG)
6. Beth Orton: Daybreaker (Astralwerks)
7. Sonic Youth: Murray Street (Geffen)
8. Saul Williams: Amethyst Rock Star (Universal)
9. Sheila Nicholls: Wake (Hollywood)
10. Starsailor: Love Is Here (Capitol)
THE WORST
1. Sheryl Crow: C'mon C'mon (Interscope)
2. Lauryn Hill: MTV Unplugged 2.0 (Columbia)
3. Oasis: Heathen Chemistry (Epic)
4. Billy Bragg and the Blokes: England, Half English (Elektra)
5. The Kickovers: Osaka (Fenway)
6. Jimmy Fallon: The Bathroom Wall (Dreamworks)
7. Tegan and Sara: If It Was You (Vapor)
8. Dot Allison: We Are Science (Mantra)
9. Spacemonkeyz Versus Gorillaz: Laika Come Home (Astralwerks)
10. Weezer: Maladroit (Interscope)