A rule of thumb for celebrities: When faced with a drought of exposure, go gay.
Not that Marvel Comics is exactly hurting for hype these days, what with the big screen success of Spider-Man and the upcoming Hulk, X-Men, and Daredevil films, all of which makes the debut of the Rawhide Kid-as-ambiguous-queen that much less explainable. The new comic — the first in a limited series — hits stands today, February 6.
The Rawhide Kid isn't new. He first appeared in the 1950s and never achieved much of a following — perhaps the reason for his newfound orientation. But if the Kid thinks that pulling a Heche is going to get him a spot on Justice League, he's going to have to do better than the tired old camp and swishy demeanor found in Issue #1.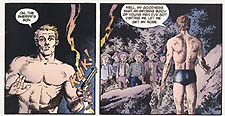 Drawn by John Severin with a woodcut feel and muted coloring, and written by Ron Zimmerman, the comic plays like a watered-down mix of rejected jokes from TV's Laugh-In and Crack'd magazine. Set in the Wild West, the first issue introduces The Rawhide Kid as a quick-on-the-draw elegant dresser who harbors a gay-healthy obsession over gunslinging celebrities like the Lone Ranger ("I can certainly see why that Indian follows him around "), Doc Holliday ("A disgusting man ") and Wild Bill Hickock ("VERY nice man. Bigger than life. ") There's nothing especially shocking or offensive about the comic, though it has some odd moments, like the one where the buff Kid stands in tight undies in front of a bunch of twelve-year-olds. The kid is regarded by male townsfolk with awe, who mostly make reference to his sartorial eloquence. "He kin dress, that's for damn shore, " says one scruffy miscreant. And later, the town's doc chirpily observes, "Man alive, he's a sharp dresser. "
The real question is, who will The Rawhide Kid appeal to? The humor is far too outdated for today's gay men — heck, it's even outdated for today's straight pre-teens. It's hard to figure out who will bother even taking a look.
Our guess: The Rawhide Kid will be riding back into the sunset afore long. Git along, little doggie, git!