The preciousness quotient runs pretty high throughout a metaphor-laden tale of an invisible gay man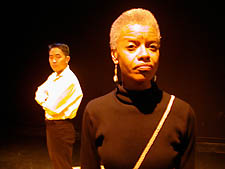 Odd couple: Lee and Jackson
Photo: Edu. Bernadino
The fanciful and supernatural have always been right at home in the work of gay Thai-American playwright Prince Gomolvilas. Take the protagonist in Big Hunk o' Burnin' Love, doomed to burst into flames if he doesn't marry by the age of thirty. Or the UFO-obsessed Asian-Americans assembled on a Vegas wedding chapel rooftop in The Theory of Everything.
And so it is too in Bee, the latest Gomolvilas play to be staged by Asian Stories in America Theatre. What Bee gives us is a gay Korean-American man, Devon (Steve Lee), who — much to his dismay — has been invisible for the past year of his life in Las Vegas. But he finally meets an African-American casino cocktail waitress, Gina (Debbie Jackson), who can see him, so he enlists her help to find a cure for his condition. (Devon has a particularly strange case of invisibility that has also left anyone other than Gina unable to hear him speak, in case you're wondering why it's taken him so long to find assistance.)
Devon and Gina first turn to science for an explanation, seeking out one of Gina's customers (Rosemary Regan, in one of multiple roles) who teaches university physics but turns out to be a raging alcoholic in no shape to discuss invisibility. Then it's on to a flighty, pot-smoking paranormal expert (Regan) who thinks Gina is trying to pull one over on her, and finally a tortured gay priest (Lonny Smith, also juggling multiple roles) who's too tied up with a personal faith crisis to be of much help to anyone about anything.
Bee
ASIA Theatre Through 5/3
703-979-0875
The preciousness quotient runs pretty high throughout Bee, both in the playwright's heavily metaphorical, parabolic style, and director Edu. Bernardino's favoring of exceptionally broad and silly renditions of the various supporting characters portrayed by Regan and Smith. Their performances are mostly fine, although they're pitched — vocally and physically — for a house larger than Arlington's miniscule Theatre on the Run. Smith, who's selling it to some imagined back row far beyond the one that's only a few feet in front of him, could especially stand to be reined in during the priest scene.
What's more problematic is how the character of Devon also gets a superficially styled treatment from Bernardino and Lee. Devon's sexuality is projected by Lee through a "boi in the 'hood"-style speech pattern and physicality that makes Devon an unimaginative stereotype, not a dramatically rich character who can keep you engaged when Gomolvilas takes Bee into the racially charged personal territory of Devon and Gina's lives.
Lee needs to — but doesn't — give Devon a particularly authentic emotional resonance when Gomolvilas explores a surprising bond between Devon and Gina that stems from the 1992 Los Angeles riots and the tensions between blacks and Koreans in South Central L.A. that came to such a destructive head during that period.
Jackson fares better as Gina, giving her a broader range of more natural, thoughtful reactions to her circumstances. Still, there's a charisma and confidence lacking in Jackson's stage presence, and her performance — like this overall Bee itself — never quite takes flight.