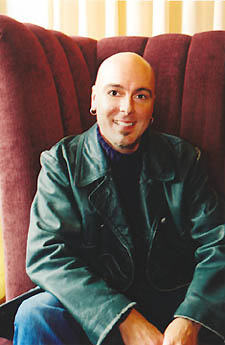 Rick Hammerly
"And the award for Outstanding Lead Actor in a Resident Musical goes to…Rick Hammerly."
If those words are spoken from the podium at the Helen Hayes Awards ceremony on May 5, it will prove the "third time's the charm" adage for Hammerly, nominated for his performance as the gender-bending heroine Hedwig in Signature Theatre's 2002 production of the rock musical Hedwig and the Angry Inch. Hammerly's nomination also illustrates that musical theatre success doesn't have to rely on traditional Broadway-style vocal prowess.
"I'm an actor who can sing, not this singer," says the gay, 38-year-old area native, whose last Washington musical prior to Hedwig was Woolly Mammoth's 1990 production of The Rocky Horror Show. Hammerly earned Helen Hayes nominations later in the '90s for Me and Jezebel at MetroStage, playing screen legend Bette Davis, and Angels in America: Millennium Approaches at Signature, playing the AIDS-stricken character Prior Walter at the center of Tony Kushner's sprawling, gay-themed epic.
Now starring in Signature's Hedwig revival downtown at the Warehouse Theater, Hammerly harbors no delusions that his singing ability matches the likes such fellow nominees in this year's Helen Hayes race as Brian Stokes Mitchell, John Barrowman and Raul Esparza — all tapped for Kennedy Center Sondheim Celebration performances. "If I was the world's best singer," says Hammerly, "and went out there [in Hedwig] and could just rip through those notes and everything, I don't think it would work as well. It needs that feel of Hedwig is never going to make it to the top, because Hedwig is not as talented."
Indeed, the appeal of the Hedwig character that has garnered the show a devoted following since its New York debut in the late '90s lies not in the success that Hedwig strives for as a rock singer, but in her determination to live her life boldly, regardless of obstacles in her path.
Hammerly's return to Hedwig for its Warehouse run marks his third time in the role. Prior to Signature's 2002 production, Hammerly played Hedwig in 2000 at Kansas City's Unicorn Theatre for the show's regional premiere. But he'll soon put Hedwig behind him to focus on one of his dreams: a move to Los Angeles, planned for this summer, to pursue film and TV work.
Hedwig and the Angry Inch continues through May 25 at the Warehouse Theater, 1021 7th Street NW. Tickets are $35 to $40. Call 703-218-6500. Visit www.signature-theatre.org.