The young Synetic Theater over-tinkers with a biblical tale of depraved passion  
Salomé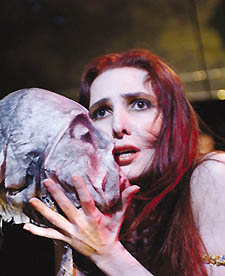 Femme fatale: Irina Tsikurishvili
(Photo by Stan Barouh)
The buzz on Synetic Theater has been getting rather loud of late. If you don't already know, they're the movement-oriented offshoot of the Russian-rooted Stanislavsky Theater Studio, the resident company at the Church Street Theater. Synetic's first two productions, a word-less Hamlet and the politically charged Host and Guest, met with wide acclaim last year. And Synetic holds seven coveted spots on this year's slate of Helen Hayes Awards nominations, including Outstanding Resident Play, Direction and Choreography nods for both of its 2002 efforts.
For Synetic's third outing, Oscar Wilde's Salomé, company founders Paata and Irina Tsikurishvili (a husband-and-wife team) have again taken the roles of, respectively, director and choreographer. Irina also portrays the biblically-based titular princess whose depraved lust for John the Baptist — called Jokanaan here — leads to his head being served to her on a silver platter.
Wilde embraces both the lyrical and lurid in his 1891 work, making it as much poem as it is traditional drama. But Synetic doesn't have the balance right in its visceral and, at times, bombastic approach to Salomé that celebrates physicality at the expense of some very fine text that needs more careful treatment than the company has afforded it.
Synetic Theater
Through 5/25
202-265-3748
The production opens with an extended dance sequence that establishes the orgiastic excesses of the court of King Herod (Greg Marzullo). Most of the small cast of a dozen are engaged in an intricate and intense display of the sex-and-power-driven atmosphere that has engulfed this place, making it ripe for the destruction that ensues.
When dialogue finally starts, John Milosich nicely conveys the Young Syrian's hypnotic enchantment with the beautiful Salomé, oblivious to the protestations — and devotion — of the Page (Matthew Conner) who warns him that nothing good can come of such an obsession. But the ethereal tone is soon broken, unwisely, by a comic rendition of the soldiers (Irina Koval and Nathan Weinberger) who guard the cistern where the prophet Jokanaan (Jonathan Leveck) has been imprisoned after condemning the marriage of Salomé's mother Herodias (Catherine Gasta) to Herod as being incestuous, since she had murdered her first husband, Herod's brother, in order to wed the king.
The production really stumbles, though, in the sequence where Salomé secures the release of Jokanaan so she can voice her growing desire for him. Despite being scantily clad and suspended on a rope-and-pulley system that sends him flying through the air at times, Leveck still manages to make Jokanaan rather dull and unmoving. And Tsikurishvili is hampered by a Russian accent so thick that she often can't be understood, much less convey the verbal potency of Wilde's rich text.
Marzullo and Gasta show considerably more spark in their regal roles. And the production reclaims some of its punch in final dance sequences, particularly Tsikurishvili's climactic, ecstatic "duet" with Jokanaan's severed head.