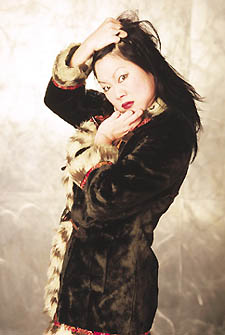 She's the one that we want: Cho.
Margaret Cho can't be stopped.
At 34 years old, she's spent half a life hopping from stage to stage. "I started touring practically at sixteen, " she says. This weekend she's finds herself on stage at Washington's Warner Theatre for three performances of her stand-up show, Revolution.
Cho first came to national prominence with All-American Girl, her ABC sitcom that fizzled after one dizzying season. Network pressure on her to lose weight ended up putting her in the hospital with anorexia and kidney failure.
Out of that experience, Cho soared back with a string of comedic and personal triumphs, including I'm the One that I Want and, most recently, the concert film Notorious C.H.O. Cho's frank discussion of her broad-ranging sexuality and full-throated self-identification as a fag hag have also made her an icon for the gay and lesbian community.
While gays may look to her for inspiration, Cho says she's found more inspiration from the gays and lesbians in her own life. Cho is engaged to be married in June, and gay couples have helped shape her relationship with her soon-to-be-husband.
"It's the kind of marriage that will last, because there is complete honesty and complete devotion outside of the romantic bonds, " she says. "I feel my role models in gay relationships have served me well. "
Revolution has been a more explicitly political show for Cho — hence her Ché-inspired tour poster — changing from stage to stage in response to the news in the nation.
"We have to fight our own war within, to rectify what's happened to the government, " Cho says. "I hope that I stir up controversy, I hope that I create change.
"But I hope most of all just to make people laugh, " she continues, laughing herself. "I'm just an entertainer anyway, what the fuck do I know? "
Margaret Cho appears at The Warner Theatre, 13th and E Streets NW, Saturday, May 31 at 7:30 and 10:30 p.m., and on Sunday, June 1 at 7:30 p.m. For ticket information call 202-432-SEAT, or visit www.ticketmaster.com.