Ford's Theatre is inarguably one of the country's most revered spaces to present live theatre, its walls steeped in American history and political drama. And so it seems the perfect venue for Frank Galati's adaptation of The Grapes of Wrath, a condensed version of the great American Pulitzer Prize-winning novel by John Steinbeck. Galati's script still follows the Joad family from their Okalahoma farm during the Dust Bowl era through their pilgrimage to California's green vineyards, but somehow manages to translate Steinbeck's requisite 10th-grade reading fodder into an impressive, well-constructed play that is as powerful and moving as the family's sad but sturdy jalopy.
If any local directors aspire for greatness, they should look no further for lessons than Chicago's David Cromer. His Grapes of Wrath plays out like a modern family drama that makes for some particularly marvelous theatre. Like Steinbeck, Cromer has a gift for tapping into the indomitable human spirit and masterfully designing emotionally-rich images. His tender closing scene creates a striking visual effect that fills the stage with a larger-than-life moment. 
The Grapes of Wrath
To 11/15
Ford's Theatre
511 10th St. NW
$29-$45
703-218-6500
Almost everything in Cromer's production is exceptional, from David Swayze's seemingly impossible scenic design — including a revolving stage and the miraculous construction of the Joads' jalopy — to Marcus Doshi's elaborately-conceived lighting and Josh Schmidt's original music, whose period lyrics and musical interludes keep the piece moving along, offering an element of realism that is almost palpable.
The whole "shebang " begins when Tom Joad (Craig Walker) returns home to the family farm after four years of serving hard time for a violent crime. Out on probation he's greeted by a family in transition. Despite their best efforts to survive, the Joads have had enough of living in poverty and struggle; like other Okie families who have been enticed by orange handbills promising better lives and plentiful jobs out west, they are considering a move to California, "land of milk and honey. " Tom's homecoming sets the wheels in motion for the clan of twelve to set out on a journey that must be endured with strength, faith, and above all else, hope. When they finally arrive in California, a new set of hardships await the Joads, who must cope with one tragedy after another.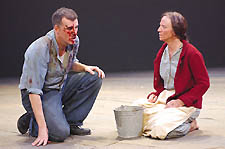 Steinbeck's novel and Galati's translation still offer the same important messages about the plight of the Okies and how others like them paid with blood, sweat, and tears to pave the way for our convenient contemporary lives. Throughout their trials and tribulations, the Joad family still remained the embodiment of human kindness, never forgetting to lend a hand to others in greater need.
In a role that we are more familiar with from the inimitable Henry Fonda, Walker presents a keen interpretation of Tom Joad in a thoughtful performance. Among a large cast, Jim Zidar as Pa Joad and Jeffrey Hutchinson's Preacher Casy are both convincing and amicable, and Rusty Clauss is memorable and spirited as Granma Joad. But it is the emotionally-draining performance of Annabel Armour as the tough-as-nails Ma Joad that carries the production to another dimension. Armour delivers an outstanding rendition as the tower of strength for the Joad family, always insisting that they "carry on, as Okies do. " She is at once impenetrable and heartbreaking in a commendable performance that she wears like a second skin.
The Grapes of Wrath may be a tedious, hefty read, but this touching, bittersweet account of the historical Dust Bowl trek is a vastly important recollection that unfolds in long, athletic scenes, revealing more about the journey than the destination.
---
Proof
To 11/23
Arena Stage
1101 Sixth St. SW
$42-$52
202-488-3300
If Ma Joad represents the visceral struggles of American women, then Catherine in David Auburn's Proof strives to define the more academic, moral battles. She has inherited the mathematical genius of her late father, and along with it, the fear that she also inherited his debilitating mental illness. Who knew math could be so theatrically engaging? Catherine (Keira Naughton) has written a "hip " new theorem that may prove once and for all her prowess with numbers and figures. It is up to her father's protégé and her older sister Claire (portrayed with talent and depth by Susan Lynskey) to determine whether or not Catherine wrote the proof alone. While Claire tries to be supportive, she fears that her sister has developed the same mental illness that overtook their father and pleads with her to move to New York so that she can look after her. Both Catherine and Claire present strong, compelling arguments but it's not up to them to ultimately decide her fate.
Arena's Wendy C. Goldberg takes on Auburn's ingenious, Pulitzer Prize-winning script in a production that, like its inspired mathematics professor, is literally "firing on all cylinders. " Auburn is unafraid of taking risks, with his snappy, realistic dialogue and beautifully-designed scenes. His characters are lucidly defined and with Goldberg's taut, imaginative direction, they evolve to life before us.
Naughton is a quietly grieving, sardonic Catherine with an unsettled energy that becomes explosive, even though there is little chemistry between Catherine and Hal (Barnaby Carpenter) in Goldberg's highly kinetic scenes. Naughton survives Auburn's fertile material by markedly extracting his golden humor.
The cast of four keeps growing through Goldberg's invisible direction on a surreal, Joseph Cornell-inspired set, designed with magic by Michael Brown. If one thing is proven with certainty, it is that Proof is one satisfying piece of theatre.
---
Scaramouche
To 10/25
WSC
Arlington, Va.
$22-$30
703-418-4808
Selling Scaramouche to an audience is about as easy as selling a Washington resident one of those tacky vendor sweatshirts with "D.C. " emblazoned across its front. Rafael Sabatini's hefty literary juxtaposition of intriguing fictional characters set against the rich, bloody backdrop of the French Revolution is not a light platform for an evening of theatrical entertainment. Yet the Washington Shakespeare Company and director Gregg Henry have constructed a noble attempt to sell the guts-and-glory French epic with a solid and surprisingly trendy adaptation from Barbara Field.
Not unlike other highly emotional literary works set during this complex political epoch, Scaramouche offers a miscellaneous collection of dramatic scenes revolving around a young law scholar who has the unfortunate destiny of avenging the death of his friend, a would-be priest who dared to speak truths about the royal classes, decidedly vis-Ã -vis.
Although WSC touts their production as "a romance of the French Revolution, " the play is about as romantic as a visit to the Holocaust museum with a sibling. Field's version sets aside the illuminating storybook portraits that Sabatini intricately designed, and instead concentrates small capsules of time in late eighteenth-century France. Henry seems to gravitate toward that end with his ultra-hip scene segues where the lower classes march around in stark, shadowy lighting droning historically-precise French melodies in minor chords, Ã  la "Mademoiselle, a guillotine. "
Besides showcasing the lucrative box-office bohemian sensibilities of Puccini's operatic La Bohème, Field has also made a spectacle of Sabatini's penchant for commedia dell'arte. Here the stock buffoon character is satirized when the actor playing Scaramouche runs off with the stash collected by his traveling improv troupe, which affords Sabatini's young scholar André-Louis Moreau (Hugh T. Owen) the opportunity to fill in the coward's shoes. It's a perfect façade for the fugitive, who hides out as a masked actor with revolutionary ideals. The new, improved Scaramouche swiftly seduces everyone, convincing the troupe leader to pay the cast. The first response is, "Ridiculous! Nobody pays actors, " but as the success of Troupe Binet lunges forward, the group is finally paid and all is settled — for a while, at least.
When the Marquis D'Azyr (Daniel Ladmirault) arrives for a performance one evening, his hands still fresh with the blood of would-be priest Phillipe, a duel is inevitable. After a rough and tumble encounter in the Theatre Royale, our Scaramouche is off to Paris to "eat humble pie. "
Henry's stylized, staggered staging is contrived like a tennis match for the theatre: his actors speak to each other in long speeches from across the stage, which can be a bit tedious on the neck. His fourteen-member ensemble successfully rises to the physical challenges of re-creating authentic commedia dell'arte postures, accurate fencing exercises, and grand duels with elegance and skill. No one offers a better interpretation of the traditional Italian study than Grady Weatherford as Rhodomont. Weatherford's goofy, knowing jests and crude physical comedy are welcome distractions from the dreary mires of Sabatini's sociopolitical drama.