Photo by Todd Franson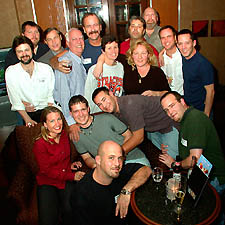 Mission: To provide gays and lesbians a social outlet outside of Washington, D.C.
Founded: 1992
Number of Members: Over 200 registered members.
How To Join: Yearly membership is $20 or $30 a couple. Those interested can visit www.dullestriangles.com or attend an event and fill out a membership form.
Background: From their legendary and elaborately decorated Halloween extravaganza to their weekly happy hours, the Dulles Triangles know how to have a good time. Bruce Loggie, president of the group, says they have a great mix of people, from singles to couples to men to women. Loggie says that in such a mix everyone gets along fabulously, and the regular Thursday night happy hours at Bowman's Lounge in the Reston Sheraton are like a gay version of Cheers, where everybody knows your name.
Contact: For more information on upcoming events, visit the web at www.dullastriangles.com or e-mail info@dullastriangles.com.
Next Event: Weekly Happy hour from 7 to 9 p.m. at the Reston Sheraton, 11810 Sunrise Valley Drive, in Reston, Va. Also coming up is the annual Halloween Party Saturday, October 25th at the Punkin's Plantation, 200 Linden Court in Sterling, Va. The cost for members is free. Guests are $5. For locations and directions visit the web site.