Cassidy Karakorn and Coby George have made it their mission to revive Tracks. Like many devotees of the former nightclub, Karakorn and George, along with friend Bonnie Sherman, have yet to find a successor for the club since it closed in 1999.
So a few months ago the three started their own event-promotions company and kicked off a monthly Friday night party that they've christened Electrotease, in honor of their favorite kind of dance music — the very-now sound known alternately as electro and electroclash.
They didn't set out to revive just the music they heard at Tracks every weekend while still teenagers in the early to mid-90s. Actually, with Electrotease, they haven't really revived the thumping electronic music heard at Tracks at anytime. It's more the vibe, the energy of the club they aim to relive. "It didn't matter if you were gay, straight, black, white," Karakorn says.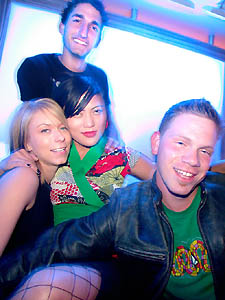 The beat goes on: (seated, from left)Cassidy George, Coby Karakorn and DJ Mikey Vader. (Standing) Sam Ziar (Photo by Todd Franson)
"That was what was so great about Tracks, it was a congregation of everyone, and everyone got along," George adds. "Everyone was there to enjoy the same music."
This was a "boys who like girls who like girls who like boys" omnisexual vibe that first developed during the days of disco, then carried over into the gender- and genre-bending Britpop/punk era of the 1980s. It reemerged again during the C+C Music Factory and Madonna house music of the '90s, as well as with the rave trance/techno scene. But it petered out in the mid-'90s, before Tracks closed, and only began to reappear in the last year or so.
Karakorn and company offer a perfect illustration. The three talked on and off for years of shaking up the nightlife scene in Washington.
"D.C. has gotten to the point where it's become segregated as far as the scenes go, gay and straight or house and hip-hop and everything," Karakorn says. Eventually, they developed a concept — stage a regular event featuring DJs as well as live musical acts performing a style of music that luxuriates in heavy synthesized orchestration and affected mannerisms, evocative, if not a near-total rehash, of the sound of a decade and more ago.
"Techno's okay, but it's nice to have something that makes you happy and keeps you wanting to stay on the dance floor," the former techno music party promoter George offers as a reason for why electro has come into its own. "I think it was time to get away from that really hard music that was around for a while, that really drug-driven, hard, stark, rave-style music."
Their promotion company, Biserious Productions, was named after a chance encounter George had at a bar. "Someone asked if I was bi-curious, and I said, 'No, biserious,' and it kind of stuck," she says. Both Karakorn and George say that most of their friends are gay males, and to some degree infer their goal is to promote bisexuality. For one, Karakorn works at the Human Rights Campaign. For another, she says: "Having a night like Electrotease opens up peoples' minds, so you have people who are normally straight and wouldn't be open to [same-sex desire] and they see it accepted in an environment where no one cares, and that's how it gets to where guys are willing to try [sex with another man]." They both laugh again. But they really are serious. Soon enough they plan to develop Biserious labeled T-shirts and underwear.
Since holding their first event in May at Club Five, they've brought in an eclectic assortment of musical artists, from Electroclash "godfather" DJ Larry Tee to Tracy + the Plastics to Carlos of Interpol. Though the mixture of gay/straight, male/female varies depending on the fan base of each performing artist, the Biserious women consistently attract a potent, sexually diverse blend of scenesters unfamiliar these days in Washington.
Until it matures and forms a consistent taste throughout, electro remains a melting pot of every kind of up-tempo electronic music, stirred up to a not-always-danceable brew. Sometimes you just prance, not dance, to it, showing off, because electro is as much an attitude and comment on fashion as it is about music. It's no coincidence that much of electro sprouted among the New York trend-chasing fashionista set.
So is electro just a fad about to fade?
"I think it's a fad that originally wasn't supposed to stick around for very long and most people in the dance scene didn't want it to stick around," says Michael Hoffman, the resident DJ at Electrotease, where he currently spins by the name DJ Mickey Vader. "But people ended up liking it, and it's yet another way for electronica artists to be heard. So I think it's here for a while."
Hoffman doesn't consider himself an electro DJ, since he incorporates into his Electrotease set a lot of other kinds of dance music. "He blows every genre out of the water," George says, adding that many established DJs who have heard his sets have told her that he's on the verge of major success.
While Electro is in all likelihood a fad, it's far from fading. Karakorn says they're already outgrowing Five, which Biserious partner Bonnie Sherman co-owns with her husband, Tim. Over the winter they expect to move to a bigger, more concert-oriented venue.
Ultimately, the Biserious women have charged Electrotease with reviving not just the former glory when Tracks was the hotspot in D.C. nightlife, but when Washington was a veritable hotspot in clubland nationwide. Karakorn says, they're on to something with that. While electro parties in other cities have faltered, Electrotease's reputation is growing.
Says Karakorn: "Right now it's the buzz in the whole electro scene in the United States."
Electrotease happens the second Friday of every month at Club Five, including next Friday, October 10th, when Mira Aroyo of Ladytron and Spaulding Rockwell will perform. Five is at 1214 B 18th Street NW. Admission is $15 after 11p.m. Visit www.electrotease.com.