I have only one complaint about You're a Good Man, Charlie Brown as staged by the Gay Men's Chorus of Washington, D.C., and here it is:
Peppermint Patty wears makeup.
Lip-liner and rouge should never touch the skin of this childhood scion of natural womanhood, a Birkenstock-wearing hippie who, it could be supposed, might one day turn to her sisters for companionship. The subtext of sexuality, of course, is not what one looks for in the work Charles M. Schultz, but it's there in Patty. Yet, as portrayed by Todd Katschke, Patty has so much pancake and lip-gloss slathered on her face, she comes off as a tarted-up drag queen. It's almost impossible to resist the urge to run up on stage and wiggle a dollar at her.
That gripe aside, you couldn't ask for a more perfect rendering of Clark Gesner's charming and sweet Peanuts-inspired musical. Comprised of brisk comic strip-like vignettes punctuating a joyful, catchy musical score, You're a Good Man, Charlie Brown is one of those irresistible, underrated pleasures of musical theatre that, oddly enough, never caught on in a big way (the initial 1971 New York ran only 32 performances, and a 1999 revival closed after four months).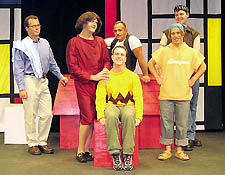 Luckily, it has found renewed life in the GMCW's intimate and appealing production, solidly directed by Angie Prater and featuring sparkling musical accompaniment by C. Paul Heins and Steve Collins. The troupe sink their big boyish hearts and estimable voices into the show, which, despite the characters' problems (Charlie Brown's woeful attempts to succeed at anything, Linus's neurotic need for his blue blanket, Lucy's overbearing, narcissistic demeanor) evokes a era when things were far less complicated, a time when kids could be kids.
The cast of six may not be full-fledged pros, but they shine as brightly as any professional troupe in the city. Jim Gruschus is an enormously touching and vulnerable Charlie Brown. When he sings, how can anyone "be as totally, thoroughly, utterly blah as me, " emotions well up in us like a water-balloon being filled at a rushing faucet. Chuck Walker is a pert and perfect Linus (and he executes a delightful soft-shoe in "My Blanket and Me "), and Don Garapolo is marvelous as a (literally) larger-than-life Lucy. Eric Belkengren lends a set of gorgeous pipes to the role of the Beethoven-loving Schroeder, though his acting is a little on the rigid side, and Katchke fills things out nicely (makeup notwithstanding) in the thankless supporting role of Patty (she doesn't even get  her own number).
You're a Good Man, Charlie Brown
To 10/18
$25
Arena Stage
at 14th & T
202-432-SEAT
www.gmcw.org
The showstoppers, however, belong to Snoopy. And as dazzlingly and winningly portrayed by Carl Baldwin, the forever-fantasizing dog who would be a WWI fighter pilot or a "fierce jungle creature perched on the limb of a tree, " the dog repeatedly brings down the house. (The role will be played in this weekend's performances by L. Owen Taggart, with Baldwin returning for the final round of performances on September 16).
Since this is a gay chorus, a queer sensibility slips in here and there. But it doesn't overwhelm the proceedings and for the most part is kept to the sidelines. Still, Snoopy's leather vest is a clever touch and when Lucy proclaims "I'm going to be the biggest queen that ever was, " the line brings down the house.
Charlie Brown may have never gotten his kite to fly, but with You're a Good Man, Charlie Brown, the GMCW soars into the stratosphere.