Photo by Michael Wichita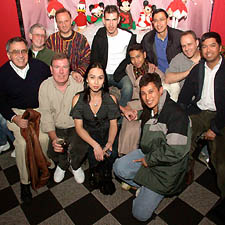 Asians and Friends Washington
members at a recent
happy hour event.
Asians and Friends Washington
Mission: Asians and Friends Washington's (AFW) sponsors activities to increase understanding among GLBT Asians and non-Asians.
Founded: 1984
Number of Members: Approximately 100
How To Join: Visit the web site at www.afwashington.net to download a membership form or go to AFW's weekly happy hour at Chaos. Dues are $20 a year for singles and $27 for couples. You can also sign up for the Silk Road newsletter on the web.
Background: Gerry Gantt, AFW's secretary, says his friends first convinced him to come out to one of AFW's happy hours. From posh potluck dinners to moving movie nights, the group quickly made him feel at home: "They were very welcoming." Ganntt's favorite event, however, is the annual International Friendship Weekend, a convention where Asians and Friends chapters from all over the globe meet. "It's great to get to know others all around the world."
Contact: For information e-mail afwash@aol.com or visit www.afwashington.net.
Next Events: Weekly happy hour from 7 to 8 p.m. at Chaos, 17th and Q Streets, NW. Movie night on Friday, December 12, 7:30 p.m. at Frank and Nicolas's, 1420 15th Street, NW. Check the web site for latest information.