"I was born on the wrong end of the leash, " bemoans Spot, the blue-furred canine protagonist of Disney's Teacher's Pet. "I'm a dog who's learned to keep his leg down. "
Indeed, the super-intelligent pup is able to walk upright and, to that end, regularly masquerades as a boy named Scott so as to attend school with his master and best friend Leonard Helperman. Leonard's mother happens to be their fourth-grade teacher, and she's clueless that her star pupil is, in reality, a pooch.
This mildly ironic play on the title phrase adds an extra splash of whimsy to an already abundantly whimsical experience.
Television cartoons have, for decades now, played an important role in shaping the Saturday morning habits of children across the nation. With the proliferation of cable and satellite networks, cartoons have broken free of their weekend moorings and have become a lucrative ancillary market all their own. Still, it's a risk when a popular television product makes the leap from the small screen to the big — a risk that Teacher's Pet found no payoff in last weekend. The movie — bright, buoyant, jubilant and infinitely entertaining — didn't even make it to the top ten on the weekend box office report. In the realm of popularity, Teacher's Pet is no Wild Thornberrys or Rugrats. And yet this story of a dog that yearns to be "a real, live boy " boasts quite an impressive pedigree, both in creator and its cast.
Teacher's Pet is the brainchild of Gary Baseman, a contemporary pop illustrator who emerged from the world of underground comix and has been compared, by some, to Warhol. Among his more visible projects: the illustrative adornments to the popular Cranium board games. Baseman's psychedelia-influenced characters straddle a fine line between avant-garde freakish and the utterly adorable. They're best thought of as living balloons, particularly his human creations, who, with their elongated heads and long, discolored proboscises, weirdly rounded teeth, and heavy-lidded eyes, resemble more cheerful, PG-rated versions of R. Crumb's stoner concoctions.
This subtext will be lost on kids, who clearly cotton to Teacher Pet's bright colors and its zippy, hyper-drive pacing, but it probably won't get past the parents chaperoning them, who will undoubtedly delight in the psychedelic head-rush the movie imparts.
In the television series, Leonard and Spot/Scott's misadventures often center on keeping Scott's canine identity a secret. They are flanked with other family pets — a literal 'fraidy cat named Jolly (who resembles an orange blob with eyes) and a burly, stubble-chinned parrot named Pretty Boy.
The movie offers Spot an opportunity — via Dr. Krank, a mad scientist who claims to be able to transform animals into humans — to realize his dream of becoming a boy. As it turns out, Spot is transformed alright — but not into a boy, as hoped. Rather, he turns into a "hairy knuckled grown-up with back pain, " mainly because he forgot to take his accelerated dog years into account — seven for every one human. Things get a little strange when the newly transformed Spot — rechristened Scott Manly-Man — briefly romances Leonard's mother at a moonlit dinner where he literally licks his plate clean.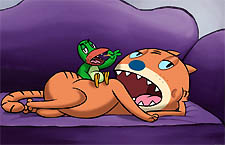 The script by Bill and Cheri Steinkellner is packed with more adult humor than one usually finds in such animated exploits. And the corporate brass at Disney graciously allow Steinkellner and Baseman to poke fun at several Disney-identified landmarks, such as Pinocchio (complete with a wall-eyed Blue Fairy), Snow White's dwarves, and the great almighty Mickey. The narrative is thrust forward by an assortment of marvelously clever songs — silly symphonies of varying lengths, including one sappy number about friendship which, when sung by Leonard, attracts a ton of cuddly, wide-eyed forest animals. A few musical numbers later, Spot complains, "What is it with this family and singing? I'm starting to feel von Trapped! "
Disney's Teacher's Pet
Directed by Timothy Bjorklund
Starring Nathan Lane, Kelsey Grammer, David Ogden-Stiers and Debra Jo Rupp
Rated PG
68 Minutes


One of the best songs, "Think Big, " is sung by Pretty Boy, and boasts a chorus of mice and ants, while a quick-witted run-through of all the states in the United States, sung by Mrs. Helperman, is augmented by such alarmingly ridiculous shots as a quick cut of a tree vomiting sap. Who said learning wasn't fun?
Nathan Lane has the quintessential blend of brassy energy and rambunctious wit as Spot/Scott. It's the perfect moonlighting job for the Broadway star. Kelsey Grammer is a riot as the thundering Dr. Krank, as is Debra Jo Rupp as the ditsy Mrs. Helperman. Jerry Stiller is in full rampage shriek mode as Pretty Boy, but the best vocal work hails from David Ogden Stiers, who is just the cat's meow as the meek-voiced, lisping Jolly.
Disney's Teacher's Pet is fast, fresh, frenetic, and like all good family films imparts various messages to its young audiences as it entertains. Messages about friendship and of and following one's dreams andÂ…
You know what? Forget all this meaningful message crapola. Bursting with creativity, life and joy, and funnier than most live-action comedies released these days, Teacher's Pet is a great way to spend seventy-odd minutes — whether or not you've got kids in tow.