Before August 1998, before President Clinton ordered the United States to retaliate against a Taliban-controlled Afghanistan by bombing the city of Kabul, and before the words Al-Qaeda and Osama bin Laden became reluctant fixtures of the collective American conscious, an annoyingly literate British housewife sits in solitude, reviewing passages from an outdated travel guide on the remote, exotic landscapes of Afghanistan. She is Mrs. Ceiling, "The Homebody " in Tony Kushner's Homebody/Kabul, and she is ready for exquisite adventure.
The estranged Ceiling family — father Milton and daughter Priscilla — dash off to Kabul in search of their missing wife and mother. Here in this devastating, mysterious country, far from the comforts of their London home, they are first told that Mrs. Ceiling died in a minefield while searching for the Grave of Cain, Adam's first son. But soon thereafter, Priscilla discovers that the truth may be far more difficult to bear.
There are rumors that The Homebody has abandoned her former identity and converted to the Islamic faith, marrying a Muslim in Kabul and forging a new persona. It is impossible news to imagine, that a citizen of the free world would betray her own culture, her carefree way of life, to assume the burdens of a oppressed woman in Afghan society. Is it possible that a self-indulgent Westerner could willingly sacrifice their freedoms, their very identity, to become someone else, to embrace and assimilate to a culture and religion so far removed from their own? It's a difficult question to ask, but one that is perhaps even more awkward to answer.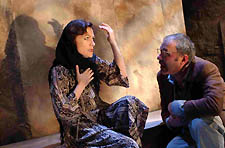 Tony Kushner, best known for Angels in America, has never been afraid to tackle some of the most controversial and convoluted issues of our time. Kushner started writing Homebody/Kabul in 1999, before American history became forever altered on September 11, 2001. The play has since undergone significant rewrites since its December, 2001 New York premiere. Kushner's latest version is a dreadfully long marathon, the length of which would be forgiven if the playwright were able to keep his audience engaged and interested. Instead, his long-winded lyrical speeches and never-ending scenes make for a grating theatrical experience. It's an important, enlightening story, but it does not entertain and rarely enthralls. In fact, it is just plain difficult to digest.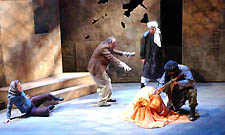 Perhaps the evening begins on the wrong foot. For a large portion of the first hour, The Homebody (Brigid Cleary) does not move from her garden chair, reciting an endless monologue as a lonely intellectual who finds old travel guides "irrelevant and irresistible. " Her curiosity for foreign lands and passion for ancient history should be endearing, not irritating, and her frequent asides leave room for us to empathize with her familiar boredom. Although Kushner's material sounds amusing, Cleary's stock delivery with its muffled dialect fails to delight.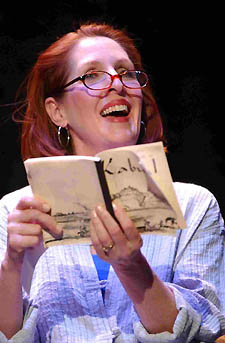 Once we arrive in Kabul in the second act, the play gains momentum, shaping a much different, darker story. Director John Vreeke successfully conveys a shadowy, volatile society filled with civil conflict and political intrigue, in part attributed to the inspired lighting design from Colin K. Bills. Kushner's characters speak in native Pashto and Dari languages, which sharply contrast the varying degrees of Cockney demonstrated by the Ceiling family. These subtle nuances are brought to life through Vreeke's precise details, including uncomfortable, violent moments that are rarely believable in a staged environment.
Aside from Cleary's lukewarm title character, the actors are uniformly solid, with exceptional supporting performances from Doug Brown, Michael Russotto, and Jennifer Mendenhall, emotionally wrenching as a desperate librarian who can barely remember the alphabet. Reciting a fluent mix of several languages, Mendenhall is the real revelation in an evening of burqa-clad anonymity.
Homebody/Kabul
Written by Tony Kushner
Presented by Woolly Mammoth & Theatre J
To 4/11
At the DCJCC
1529 16th St. NW
$30-$39
1-800-494-8497
or 202-393-3939
boxofficetickets.com

Like two polar cables trying to connect to the same dead battery, Rick Foucheux and Maia DeSanti offer affecting portrayals as a father and daughter helplessly trying to remain intact while everything around them falls apart. Foucheux is especially adept at mixing a peculiar cocktail of apathy and horror for his bumbling Milton.
Sometimes it takes a personal, self-examining journey to understand what a particular piece of theatre is really about. After Kushner's nearly four hour-long Homebody/Kabul, the audience is ultimately left to decide for themselves whether they have just witnessed an exposé under the guise of commentary on East-West politics and culture, or if the "spectacle of suffering " presented lends meaning and depth to the argument that it is possible to become so disenchanted with familiarity, freedoms and all, that one can be willing to shed their skin for life in a vastly different world.