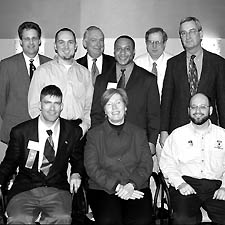 PEN members at a
recent networking event
Mission: PEN is a nonprofit, nonpartisan, all-volunteer network for lesbian, gay, bisexual, transgender or advocate professionals who work for business, nonprofits or government in D.C., Virginia and Maryland.
Founded: 1990
Number of Members: Approximately 400.
How To Join: Sign up at any PEN event or online at www.pendc.org. Dues are $60 a year for individuals and $95 to $145 for a business.
Background: PEN president Colleen Dermody says a colleague at work first introduced her to the group. "Everyone there was so enthusiastic," she says. "It was a great intro." Since joining, Dermody has been amazed not only with the social events but also the members' dedication to giving back to the LGBT community. She says it's amazing to see how many people show up for their community service events: "The people are just so friendly and welcoming."
Contact: Visit the web site or e-mail info@pendc.org.
Next Event: PEN Annual Awards Dinner on Thursday, March 25. The dinner is from 6:30 p.m. to 9 p.m. at the Wyndam City Center Hotel, 1143 New Hampshire Avenue NW. The event is open to the public. Tickets are $75.