Michael Kahn and Tennessee Williams: what a pair. The two theatre magnates converge in holy matrimony in Five by Tenn, the Shakespeare Theatre production of five Williams one-acts that open "Tennessee Williams Explored, " this summer's grand Kennedy Center event. It's an extraordinary adventure on many levels, mostly because it succeeds at exploring Williams' early psychology and offers real insight to his later characters, particularly Amanda in The Glass Menagerie. In Escape, Mrs. Fenway (Joan van Ark) is a stifling mother who repeats herself over and over again, reassuring herself that she is somehow debilitated, and in doing so, manages to choke the very life out of her only son. Not only is it a great parallel to Menagerie, but Escape also demonstrates Williams' penchant for writing characters with big needs and little understanding (or as he claims, "people who come close to cracking "). In lesser hands, Mrs. Fenway wouldn't be half as fascinating, but van Ark brings her to life in a humid, languorous climate drowning in self-servitude.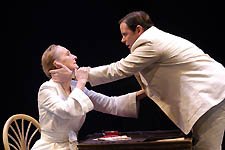 The evening is threaded together by Jeremy Lawrence as "The Writer, " a sort of personal tour guide to each of the works. Lawrence offers a spot-on Williams who brazenly flirts with his audience, offering titillating introductions and enigmatic explanations on why Williams believed that in his plays, "Characters come first. "
There is no better evidence of that confession than in the final play, I Can't Imagine Tomorrow. Perhaps one of the greatest Tennessee Williams pieces ever written, Tomorrow captures loneliness and fear in a way that is at once both lyrical and poetic. Two old friends (Kathleen Chalfant and Thomas Jay Ryan) depend on the other's paralysis: one doesn't say enough, and the other says too much in an evening of speculation and survival. Chalfant is effortless as a fragile woman in great pain in a profound script that can easily be described as a small masterpiece.
Five by Tenn
By Tennessee Williams
To 5/9
Kennedy Center
Terrace Theater
$35-$60
202-467-4600

But the real standout work in Five by Tenn is the debut of And Tell Sad Stories of the Deaths of QueensÂ…, the only play Williams penned with a principal gay character. Candy Delaney (Cameron Folmar in a star turn) is a New Orleans dragstress "uncomfortably close to his 35th birthday. " In an unforgiving world of straight men and pain from a looming past, Candy's journey is illuminated in Technicolor vision through Folmar's magical interpretation.
There is no doubt that Kahn knows what he is doing, and in Five by Tenn, he successfully brings the uncelebrated works of Williams to life in a way that is enormously intimate and graciously public. His evening of one-acts is primed with real theatricality and plenty of the expected Tennessee melodrama. Five by Tenn is a perfect kick-off to "Tennessee Williams Explored " — not to mention a wonderful introduction to one of America's most indelible playwrights.