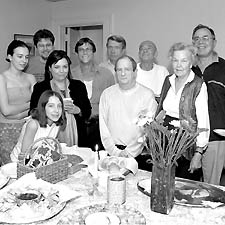 HIV Positive Drop-In Coffee
House Hosted by Friends
Meeting House of Washington
Mission: Provide people living with HIV a comfortable and social place to interact.
Founded: 1984
Members: No official membership. An average of 12 to 15 people come to the bi-monthly coffee house.
How to Join: Just drop-in. Although there are no fees, donations are always accepted. 
Background: Elizabeth Segal, co-clerk for the coffee house says the event grew out of the early AIDS epidemic in the early 80s. Friends Meeting House held a series of meetings to get clarity on the then-misunderstood issue. "At that time, people living with AIDS were not comfortable being known," Segal says. The group decided to host a party to bring people living with AIDS and HIV together in a comfortable environment. The event was so successful it spawned the more regular coffee house socials. After almost 20 years, Segal says the group still has a steady number of people who not only come to the event but also help to make it possible. "Their help is greatly appreciated," she says.
Contact: E-mail esegal@erols.com
Next Event: Saturday, May 1. The coffee house is from 7:30 to 10:30 p.m. at 2111 Florida Avenue NW. The entrance is located on Decatur Street NW.