Make no mistake about it, Orpheus Descending is hot. Molly Smith's triumphant, glorious resurrection of Tennessee Williams' lesser-known drama can only be described as sizzling, steamy, spicy, boiling, burning, red hot. But you wouldn't know that from the looks of the stage.
Set designer Bill C. Ray eases us into Williams' world of Southern Gothic with a worn and weathered dry goods store that feels as dormant as the souls who dwell inside its unhappy chambers. With its harsh fluorescent lighting and utilitarian merchandise stocked behind the counter, the only hint of life within its walls is the startling presence of an enormous, wispy tree that seems strangely appropriate for the mysticism rooted in Williams' story.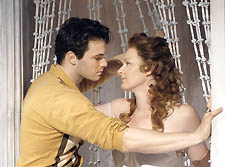 Red hot lovers: Bogart and Vinton.
(Photo by Scott Suchman)
When a mysterious stranger comes to town, wearing a snakeskin jacket and toting an autographed guitar, his arrival is met with equal parts intrigue and suspicion. The fact that the town kook recognizes him from the bars of New Orleans doesn't exactly boost his fledgling reputation, and by journey's end, the lives of several inhabitants of Two River County will never be the same.
One of the many joys in Williams' legendary script is that he deliberately leads the audience down a rough, rocky path early on, and then casually detours here and there until he finally decides to head in the right direction. All of this whimsical device to distract attention away from the real plot touches down like sand in an hourglass, quietly settling in without pretense or warning. Once the audience discovers the true principal characters, where the story leads from there is a spiraling descent into lusty, divine territory that stirs the soul and haunts the imagination.
Jabe Torrance (the ever-talented J. Fred Shiffman) has just returned home from a Memphis hospital with a ghastly appearance and his Italian wife, Lady (Chandler Vinton), in tow. Jabe is too sick to pay any mind to the young drifter who has descended upon his store, while Lady is too exhausted to care. But it doesn't take long before Lady does notice the virile Valentine Xavier (Matt Bogart), and hires him to help open her new confectionary next door. Of course, her intentions are pure and innocent — she merely wants to help a kid back on to the high road of moral conscience and community service. Or so we think.
Orpheus Descending
By Tennessee Williams
Directed by Molly Smith
To 6/27
Arena Stage
1101 Sixth Street, SW
$40-$59
202-488-3300

Smith follows an ethereal path of direction, allowing her cast to slowly unravel Williams' poetic seduction with a tempered pace that most productions would work through fast and furiously. Instead the marvelous ensemble trusts Williams' words to tell the story, alternating between his rich, poetic language and slim, dialectic prose. The result is captivating.
Williams has written his two unlikely lovers — his very own Orpheus and Eurydice — with such tenderness and compassion that their love story is one for the ages. While her Lady begins as a cold, hardened wife lost in her own loveless marriage, Vinton slowly, skillfully reveals her passionate undoing with a deep, mature understanding that requires mastery of emotional economy and range. As Val, Matt Bogart is absolutely mesmerizing as the "warm-blooded boy " who moves in to town and melts Lady's heart. The heat between Vinton and Bogart is sensational, likening their pair to the raw, animalistic desires of another famous Tennessee duo: Stanley and Blanche.
Under Smith's enchanted direction, Orpheus Descending is a sexy, smoldering story that easily earns its rank as one of the best dramas produced at Arena Stage in years.
---
They're funny character names — Johnnypateenmike, Babbybobby Bennett, Mammy O'Dougal — and they're fun roles for actors to play in Martin McDonagh's The Cripple of Inishmaan. But what isn't always so fun is witnessing the dark, cruel comedy that turns on "Cripple Billy " Claven (Aubrey Deeker) in Serge Seiden's earnest production, where Ireland isn't a friendly green wonderland. McDonagh's Inishmaan is a barren, isolated island with no ties to mainland sophistication, and the pea-brained people who live here are just as cold and temperamental as its climate.
The Cripple of Inishmaan
By Martin McDonagh
Directed by Serge Seiden
To 6/27
The Studio Theatre
1333 P Street, NW
$25-$45
202-332-3300

It's 1934 and Billy lives with his doting "aunties " (Brigid Cleary and Rosemary Regan) in a bleak existence that torments him night and day. Not only is the lad physically handicapped, but he is also held emotional hostage by a town that refuses to reveal the truth surrounding his parents' scandalous drowning. So it's no wonder why Billy decides to heed Hollywood's call when the local gossip — whose "news " is usually less than extraordinary — finally shows up to deliver a sole item of interest: an American film crew has set up camp on a neighboring island for their shoot of Man of Aran. Suddenly Billy must conspire to hitch a ride and meet the filmmakers whom he hopes will change his life for the better.
Billy's journey to Hollywood and back is brought to life by a fine cast, led by the thoroughly convincing Deeker. In his physically demanding role (we must believe that Billy is truly as handicapped as his story suggests), Deeker hones in on the qualities that make the sickly hero so tragic and hopeful in the face of his grim reality. Supported by the talents of David Marks, June Hansen, and a brash, cursing Susan Lynskey, Deeker is able to carry the dense weight of Inishmaan.
McDonagh's sardonic dramedy ultimately ends up a mixed bag, eternally stuck between his cynical, glum brand of ethos and a new variety of heart-tugging drama. Although his story doesn't always connect well, it does offer a decidedly optimistic ray of hope for a boy who acknowledges his social status without consenting to it. As his wise Irishman notes, "There are plenty 'round here just as crippled as me, only it isn't on the outside it shows. "