It's been years since we've heard from him, but Armand Van Helden wastes no time reasserting himself. That he has managed to do it almost effortlessly is the real tip-off to his ingenuity. Van Helden is responsible for the year's best remix to date: Britney Spears' "Toxic, " which he strips down, putting the song's perverse feverishness on even better display than its original.
Van Helden's only other contribution this year is a jewel of a compilation, New York: A Mix Odyssey, whose stated purpose is to reflect the musical diversity heard post-disco throughout Manhattan nightclubs. It achieves much more than this; it's a de-facto sampler platter of dance music in all its various forms, including beat-driven rock and party punk. But even Britney Spears would think to include Blondie, Soft Cell and Yazoo in assembling a New York club music retrospective. The reason Van Helden deserves attention here is the inclusion of three of his own productions, including the sure-to-be a major summer dance hit, "Hear My Name, " featuring the New York female duo Spaulding Rockwell. It's gritty, femme fatale rock with a driving beat and an insanely catchy melody.
A self-proclaimed "bad boy of house, " Van Helden first came to wide attention with his remix of Tori Amos' "Professional Widow, " with the looping, club-friendly line "It's gotta be big. " Van Helden made it one of the biggest dance tracks of the last decade. Several years later he hypnotized us with the disco-fried "U Don't Know Me, " featuring Duane Harden. But another track included on his new compilation, "My My My, " blows away everything else he — and for that matter most every other dance music maker — has ever done. I could rhapsodize for days about this track, which stacks up well against Beyonce's "Crazy in Love " and Outkast's "Hey Ya! "
If comparison to the two best Top 40 hits of last year doesn't convey how great "My My My " is, then take note of the sheer economy of scale involved. It's as if he were challenged by the film world's Dogme95 movement to create art within strict limitations. So he apparently recycles a simple melody, taken from a sample of Gary Wright's "Dreamweaver, " but does it so adroitly you wouldn't catch that reference on your own. And he creates a fully formed song using only four lines of text, sung in alluringly repetitious fashion by an uncredited shouting gospel singer. Working with so little, Van Helden creates the closest thing pop music gets to a symphony, breaking the seven and a half minute song down into three distinct movements. It's his magnum opus.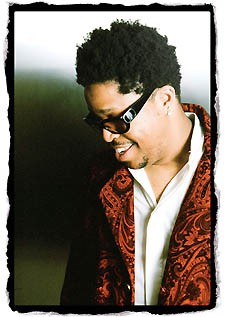 Felix da Housecat
Felix da Housecat has yet to create his magum opus. Nearly three years ago Chicago's da Housecat was hailed as dance music's next big thing. His Kittenz and Thee Glitz was a blaze of electronic sonics and the album virtually singlehandedly revived the 1980s electro synth-pop sound, positioning it as the first "new " dance genre of the 21st Century. Next week, the artist releases his follow-up, Devin Dazzle and the Neon Fever, and while it mines enough of his debut electro territory to be a treat for many fans.
Last time out, da Housecat was such a wonder in part because of his deft choice of singers to work with, particularly Miss Kittin, who sang humorous, vapid lyrics, such as those from "Madame Hollywood. " ("One day I'll become a great big star/You know, like the big dipper. ") Da Housecat again returns to the la-la land theme, with "Everyone Is Someone In L.A. " The song serves as one big eye roll to the entertainment capital's self-absorption. But Miss Kittin doesn't return to share her amusing icy, ironic hisses, and her absence is one weakness of Devin Dazzle. Also lacking is the freshness of Kittenz and Thee Glitz's pioneering electro sound, the right sound at the right time. Since then, the electro sound has been fully incorporated into most of the trendiest dance pop today, and most pop itself. So naturally da Housecat rebels against this, by moving even farther away from dance, concentrating even more than before on Prince-style punk and funk.
At least da Housecat hasn't completely given up on warm, breezy, house-infused melodies drenched in cold synthesizers. And his sly nature is still at play, too. He ends the wily album with a bang. The last three tracks wholly revisit The Glitz sound: album closer "Neon Human " is already getting deserved attention from DJs, though it hasn't been officially released yet. Saving the best for last is da Housecat's way of saying that he's still got the celebratory purr. For all his shortcomings, he's still the cat's meow.