"My feeling personally has always been that when dealing with an [HIV/AIDS awareness raising event for] the black community, they're not going to go for something that is issue-related alone, " says Us Helping Us executive director Ron Simmons. "It has to be part of an overall community endeavor or activity. It has to be connected to something cultural. " Simmons knew one such cultural touchstone existed in Mother's Day, and this year his group presents its first annual Black Mother's Day event at the Lincoln Theatre this Saturday, May 8. The event combines a tribute to mothers with a concert by the popular singing group Take 6. It was designed, notes Simmons, as "a family event [to which] people could bring their mother, their father, their siblings, their lover. "
"This is a place to take your mom but also to get the message out to the masses about how AIDS is affecting the African-American community, " reinforces Alvin King, whose production company, King & I, is producing the fundraiser for UHU.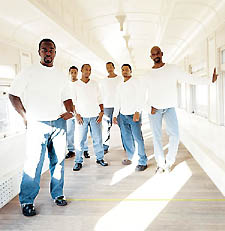 Take 6
The first half of the evening will feature performances by local entertainers, as well as pay special tribute to Mildred Young, whose son Marvin passed away from complications associated with AIDS several years ago. When Mrs. Young learned of the importance UHU played in Marvin's life, she rallied her family and church, and over the years, has contributed several thousand dollars to the organization. The second half of the program will be helmed by Take 6, who will perform their special brand of a capella rhapsody.
"I thought Take 6 would be an excellent group to be a draw for mothers, " says King. "And I wanted a black male group. They loved the idea behind the evening. "
Donors who paid between $125 to $2,500 received space in a souvenir program book to pay tribute — with a short essay, a poem, a warmly stated acknowledgement — to their own mothers. Saturday's program is open to the public at a nominal admission price of $35, with a portion of the money going to UHU, which provides care and support for African-Americans living with HIV/AIDS.
"This is our opportunity to thank black women, " says Simmons, "be it mothers or sisters or friends or aunts who have helped black men who lived with AIDS over the years from the beginning of the epidemic back in the '80s.
"It's usually the mother who ends up being the caregiver in the person's last days. And I don't think there's enough recognition of the part they played. From the beginning the women were there helping out. "
UHU's Black Mother's Day event will take place this Saturday, May 8, at the Lincoln Theatre, 1215 U Street NW, with a pre-show VIP reception at 6:30 p.m. Curtain is at 8 p.m. General admission tickets are $35 and can be purchased online at www.blackmothersday.com or on at the Lincoln Theatre box office. For more information, call Us Helping Us at 202-546-8200.