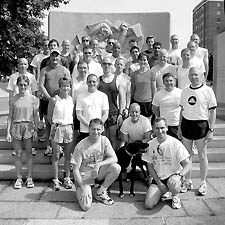 The DC Front Runners
Mission: A running group serving the greater metropolitan area gay and lesbian community and their friends.
Founded: 1982.
Number of Members: Approximately 250.
How To Join: Show up to one of the group's practices or register on their web site www.dcfrontrunners.org. Dues are $25 a year for an individual or $35 for a household.
Background: When Paul Kugelman, president of the DC Front Runners, came out of the closet, he did so running. Kugelman, who was then new to the gay scene, said he was looking for a way to socialize outside of the bar scene. "I'm past all that craziness. I was just looking for a healthy environment to spend time with people." When he came across the DC Front Runners he knew he had found what he was looking for. "Running is my first love," he says, "and joining the group seemed very natural." The group was fantastic. "Everyone was nice, friendly and supportive. It was the best thing I'd ever done."
Contact: Visit the group's website or call 202-628-3223.
Next Event: Weekly Run/Walk on Saturday, June 5. The walk starts at 9:30 a.m. and the run at 10 a.m. The group meets at 23rd and P Streets NW.