Nathan Lane he is not. But Lewis J. Stadlen does manage a fair impersonation of the loveable smart-ass as down-on-his luck theatre mogul Max Bialystock in the touring company of The Producers. Instead of creating his own version of the role made famous on celluloid by Zero Mostel, Stadlen offers a reverent, steeled performance that still entertains with his dynamo vocals, even if it does feel exceedingly overripe.
Matching Stadlen's Bialystock is Alan Ruck's Leo Bloom. Ruck, whom some will recall as Matthew Broderick's best friend Cameron in Ferris Bueller's Day Off, or from the television series Spin City, is not a great singer, nor is he a master of physical comedy. And yet his Leo still entertains with a charming sense of boyish idealism, even if the actor does seem a bit shoehorned into the role.
Based on the 1968 film by Mel Brooks, The Producers is a singing and dancing extravaganza with a crafty sense of World's Fair showmanship that can't be denied. When Brooks finally took the advice of David Geffen to sit down and pen a musical version of his kooky, deliberately distasteful tale of two wannabe producers who scam little old ladies out of their "checkies " to produce one big disaster of a show — and then pocket the difference — he enlisted the help of script maven Thomas Meehan. The result is anything but disastrous.
Just as Bialystock and Bloom lament "Where Did We Go Right, " Brooks and Meehan knew what they were doing when they carefully constructed a story that preserves all of the film's oddball characters and outrageous scenarios without losing any of the wonderfully offensive touches central to Brooks' humor. Combined with the precise direction and inventive choreography of Susan Stroman (whom the national tour and the upcoming film remake thankfully retains), The Producers was destined to become the "juggernaut " of a show it is. It won every Tony it was eligible for in 2001.
The touring edition remains a sparkling spectacle that dazzles with Stroman's crisp, clean staging and her highly-animated brand of dance numbers. But missing from the original Broadway revelation is the fraternal bonding between the two theater heads who realize their indomitable friendship. Stadlen and Ruck are fine on their own (and Stadlen really shines in his "Betrayed " number late in the second act), but together the fearless duo seems more bristly than brotherly, shaped more by competition than real camaraderie.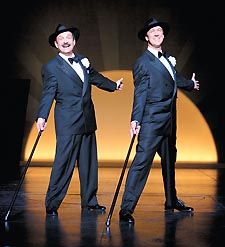 The rest of Stroman's cast offers a round of pleasant performances, including Lee Roy Reams as effeminate director Roger DeBris, and a hysterical Harry Bouvy as his "common law assistant " Carmen Ghia. Charley Izabella King's Swedish bombshell Ulla is a living Barbie doll showcasing her talents both vocal and athletic in the rousing solo "When You Got It, Flaunt It. " Fred Applegate also offers a strong Franz Liebkind, the singing, clogging, poultry-loving Nazi, and Jessica Sheridan stands out in the ensemble as the sole butch designer on the show within the show, Springtime for Hitler.
Indeed, Brooks' production takes aim at everyone: Jews and Nazis, gays and lesbians, lonely old women (who dance on their walkers), you name it. Although there doesn't seem to be any deep sense of purpose or lucid meaning to Brooks' lively score, his music is positively infectious, including a riotous "Keep It Gay, " which lovingly portrays every homosexual stereotype imaginable, including limber choreographers in tight purple leotards and a pronounced obsession with the Village People.
The Producers
By Mel Brooks & Thomas Meehan
Directed by Susan Stroman
To 8/22
Kennedy Center
Opera House
$35-$90
202-467-4600
www.kennedy-center.org

But nothing prepares the audience for Brooks' Springtime for Hitler sequence, complete with sausage-toting showgirls and Reams' own limp-wristed Hitler. William Ivey Long's wildly-conceived costumes take center stage on Robin Wagner's incredible scenery in one of the most memorable scenes to hit the Kennedy Center's Opera House in quite some time.
Despite the less-than-stellar chemistry between Stadlen and Ruck, Stroman's cartoon-like road show is nothing if not entertaining. If you aren't planning to travel up to Gotham for a while, here's your golden opportunity to revel in this wacky stage comedy. After all, The Producers has come to represent the pinnacle of American music theatre — but hopefully not our nation's taste.