Whatever happened to Fay Wray? The legendary Queen of Scream gains life eternal through tribute from a very different queen of the night in another science fiction epic that still maintains its own larger-than-life cult following. Richard O'Brien's The Rocky Horror Show is the oldest, most worn-out concept show in the business. It's neo-gothic script about alien transsexuals trapped in a lonely Americana may have been shocking in 1973, but these days it's old hat. The show just doesn't work. Luckily for us, Actors Theater of Washington's Jeffrey Johnson knows that.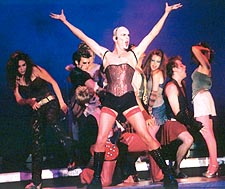 Rocky Horror
Johnson pulls out all the stops to breathe new life into Rocky Horror, with glam sensation Rick Hammerly booting up for the role of Dr. Frank N. Furter and a four-piece rock band with an electrified sound. The sexy, high-energy revival plays out in raw, edgy form on the dark stage of Southeast's Nation nightclub, the perfect venue to host such a perfectly gaudy company of crazies.
Not only is Nation an ideal space for Rocky because of its creature-of-the-night roots, but because it features a sophisticated lighting plot and designers Kevin Clark and Ayun Fedorcha take full advantage of it. As a result, Rocky Horror transports us to a techno-fantasy world filled with singing, dancing virgins and transsexuals alike. Johnson's creepy collection of androgynous figures stalks the audience throughout the evening, creating an eerie sense of vulnerability among fellow unsuspecting voyeurs. Of course everyone gets exposed by evening's end, which leaves little of Michele Reisch's punk-glam costumes left on display.
Johnson and musical director Stephen McWilliams pay special attention to the music of Rocky Horror, often overlooked by inferior productions. Meagan Flannery's Janet Weiss is a singing sensation, while Meghan Touey presents a cutesy-tutesy, All-American tap-dancing Columbia. Ray Hagen isn't the stereotypical stodgy narrator, but rather a joyfully amusing presence that is joined by Peter Klaus' adolescent Rocky, who could pass for a Brigitte Nielsen clone.
But the genuine talent of this explosive production lies in Nick Blaemire's well-coiffed, guitar-stroking Riff Raff and Hammerly's captivating performance as the "Sweet Transvestite " made legendary by actor Tim Curry. Hammerly's indelible Doc is a powder-snorting, egotistical dancing machine with a commanding presence that titillates. 
Although dialogue shout-backs are encouraged — and there is a full bar available in case you need a little motivation — no props are allowed inside the theatre.
The Rocky Horror Show
Directed by
Jeffrey Johnson
To 7/25
ATW
@ Nation Nightclub
1015 Half St. SE
1-800-494-8497

Ultimately, Johnson's Rocky Horror is an evening of pure, unadulterated fun — one that is only further enhanced by uncensored, spontaneous audience particiÂ…Â… pation.
While Rocky Horror showcases skies dark and stormy, the Kennedy Center's Beehive projects a much brighter, sunnier forecast. As one might expect from a show with the subtitle "The '60s Musical Sensation, " Beehive is a frolicking journey through girl music of the '60s and '70s, with just a dash of American history thrown in on the women's lib movement. From teeny-boppers and popular girl groups through the British Invasion to beatnik songstresses like Janis Joplin, Beehive's musical selections offer a truncated history lesson on the civil rights and feminist politics of an era that ushered in big changes and even bigger hair styles.
---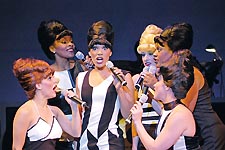 Beehive
The queen bees of Beehive are six gorgeous girls with powerhouse vocals and keen dancing ability. Director Ray Kennedy gives the ladies plenty of athletic, crowd-pleasing choreography. But his women are more than just cookie-cutter singing dolls — each has a distinct voice and personality that doesn't detract from her fellow castmembers. The hearty retro feel of Kennedy's production extends through his uniformly talented sextet, who seems to share a real sense of respect and admiration for one another.
Meena T. Jahi is the evening's narrator of sorts, prepping the audience for a good time early on during "The Name Game." She's joined by Terry Norman, Aléna Watters (who looks like Kelly Clarkson and has the vocal chops to match), and Lori Eure, who belts out a heartbreaking rendition of Janis Ian's "Society's Child. " Amy Lynn Zanetto stands out from the ensemble with her spot-on Joplin and a lovely version of "Will You Still Love Me Tomorrow. "
While the second act clearly belongs to the ever-versatile Tamula Browning, who offers a mean Aretha Franklin and a most gratifying Tina Turner impersonation in her "Fool in Love " and exhausting "Proud Mary " numbers, the real honey from this hive comes from the jaw-dropping gowns designed by Charlotte Henderson, Sherri Hill, Jamye Shaw, and the illustrious Bob Mackie. Each woman models one brilliant design after another in a fashion parade that even Cher would envy.
Beehive
Directed by
Ray Kennedy
To 8/8
Kennedy Center
Terrace Theater
$45-$48
202-467-4600

Pianist and music director Brian Whitted leads a stellar five-piece band that never allows the frilly pop music of Beehive to fly into over-the-top karaoke territory. And sound designer Joe Stanton keeps the audio focus subtle enough to capture every thrilling note without employing any of the modern mechanics that over-amplify less-gifted vocalists. Jeff Otto-Cramer's neon lighting is also tastefully simple but still effective.
Beehive succeeds at re-creating a musical show that keeps its audience alive with joy and genuine feel-good fun. Beehive will have you humming in your seat and leaves you with plenty of delightful memories to buzz about.