The B-52's haven't garnered much attention in years.
But the fun, frolicking foursome is gearing up for a major splash: After a 13-year absence, the B-52's are on track to release an album of all-new material.
"Keith's come up with some really kick-ass dance music," says Kate Pierson, referring to the group's lead songwriter and guitarist, Keith Strickland. "It sounds like the B-52's but it's updated to be more modern, more dance-oriented."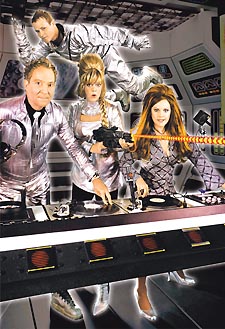 B-52's
The band's sound is built around the tight, soaring harmonies of Pierson and Cindy Wilson, the wild, camped-out style of gay lead singer Fred Schneider, and Strickland's odd, often minor-key instrumentation. But the sound is crowned by the band's unifying purpose to have fun.
"We just really hadn't gelled, " Pierson says, explaining the band's recording absence. "We'd come together to write stuff and it just didn't work. And now the stars are aligned. "
The forthcoming album, scheduled for release in 2005, as well as a planned project to remix the group's repertoire, could launch a third wave of popularity for the group, which started 27 years ago in Athens, Ga.
"We didn't really have huge ambition in a way when we started, " Pierson says. "We were sort of like, 'Let's get together and play.' Someone suggested playing in New York because there weren't a whole lot of places to play in Georgia at the time. " Through wildly successful shows in New York, they quickly became national cult sensations and post-disco dance music pioneers thanks to classic tracks like "Rock Lobster. " In the '80s, after the devastating death from AIDS of the group's visionary, Ricky Wilson, the band hit a second wave of popularity, this time in the multi-platinum, chart-topping mainstream.
Pierson and Wilson no longer don the trademark bouffant wigs they wore in the early days. "That image was really great in the beginning," she says. "And for a long time it was unusual and different.
"Now everyone's got a wig on.
The B-52's perform at Wolf Trap this Monday, July 26, at 8 p.m. Tickets are $36 for in-house seats, $22 on the lawn. Visit www.wolftrap.org.