When Ivan Sidorovich Zhukov sends a letter, he doesn't have to walk it to the nearest mailbox down the street, or even search for a stamp to lick. He simply finds the most convenient makeshift slot hiding away in his tiny one-room flat — whether it's a partially-opened dresser drawer, or the metal detailing of a mirror frame — and rests assured that his most important correspondence will be delivered without fail. Ivan Sidorovich Zhukov knows this because not only is he the author of such surreal communications, but because he is also their sole recipient.
The Studio Theatre opens their "Russian Winter " season with the U.S. premiere of Oleg Bogaev's The Russian National Postal Service, which also marks the first production of Moscow theater critic John Freedman's English translation. Bogaev, 34, has penned a work of remarkable scope and significance. An 85-minute journey through the psyche of a lonely Russian pensioner with a fertile imagination and an empty wallet, it's as much a fantasy piece as it is a tale of cold, hard reality.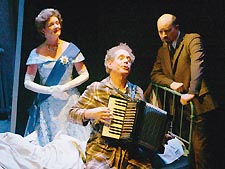 In the early-1990s, elderly post-Soviet Russians found themselves struggling to cope with new government legalities and a welfare system that provides citizens with barely enough money to survive on. Ivan, played with warmth and dimension by the mirthful Floyd King, finds himself widowed and penniless in his home country, battling delusions of a happier time and place in his life. To cope with his loss and nostalgia, he composes detailed letters back and forth, to and from a world of imaginary and real people, insects, and Martians, including Queen Elizabeth II, Lenin, Stalin, a celebrated cosmonaut, the bedbugs who reside in his apartment, even the long-lost Robinson Crusoe.
Although Ivan writes lengthy accounts of how he spends his time, fantasizing about a top-secret appointment from the Kremlin or sharing valentines with the Queen of England ("I don't have a wife or a television set, and I love meatballs, " he confesses), the most astonishing thing is how Ivan finds his own letters, and responds to them with such cheerful alacrity. Eventually his eclectic host of pen pals come to visit Ivan for his birthday, and end up arguing over who will inherit his meager possessions. The result is one of the most bizarre, beguiling scenes presented on a Washington stage all year.
The Russian National Postal Service
To Oct. 17
The Studio Theatre
1333 P Street NW
$25-$48
202-332-3300
www.studiotheatre.org

Of course the party comes to a screeching halt when Ivan finds a letter hidden in his birthday cake, signed by none other than "Adolf Hitler's bastard son. "
It's a kick to see King wandering about the stage in his Jerry Stiller-like trance as a near-senile Russian in his seventies, reading and writing such elaborate letters to himself. The joy in King's performance comes from a simple hand gesture or a knowing nod in the right direction. Whenever King "discovers " a note written just moments before, it's the sheer delight in this revelation that elicits giggles and peals of laughter. Every line feels natural, every note on the accordion spontaneous as King conveys all of the heartbreak and sadness of the man who imagines a city that was once so perfect it was his own special Utopia.
Catherine Flye is a beautiful, stunning Queen Elizabeth II, and director Paul Mullins ensures that his actors explore the space to create an extraordinary, dream-like ambiance that collides memory with reality. Neil McFadden has designed a lush, realistic soundscape that perfectly complements Michael Giannitti's detailed lighting, which features a delicate, twinkling snow effect.
Whether he is asking his childhood chums questions about whether they are still alive after the fall of communism or how they prefer to play dominoes, Ivan's spirited self-dialogue offers glimmering insight to the ornate fantasies the mind can weave in solitude. Although Ivan's best pen pal may still end up staring back at him in the mirror, Bogaev's weird and wonderful allusion makes for one fantastic piece of theatre.
---
There is no such thing as hyperbole when describing the wild, exotic universe of Cirque du Soleil. The French company's latest mind-blowing assault to the senses comes packaged as Varekai, which means "wherever " in the Romany language of gypsies. Varekai is a two-and-a-half hour trek into a world of enchantment, where athleticism and artistry converge in the most incredible, otherworldly freak show imaginable.
Tucked away inside the half-moon "Grand Chapiteau " is a Coney Island-carnivalesque atmosphere where men and women are costumed as over 130 outrageous, preposterous creatures with make-up designed to evoke animals and other supernatural entities. All come crawling, slithering, sliding, gliding, writhing, or bouncing toward you like eccentric characters lost from a Lewis Carroll expedition. Even before the show begins, it's a sensational spectacle limited only by the imagination.
Dominic Champagne's conception lends new meaning to Theatre of the Absurd, with an evening of fourteen amazing feats of human physics and passionate pageantry. The plot includes a barebones theme celebrating the spirit of the "nomadic soul, " and while some characters and foreign jungle sounds may frighten young children, the evening is a lush feast of music, dancing, humor, and drama that is unparalleled. From trapeze artists and acrobats to jugglers and contortionists, each act is intricately choreographed to live music performed by six musicians and two vocalists who are also dazzling visions on stage. There is even a dash of good old-fashioned clown magic, but this time the antics are actually amusing to adults and kids alike.
All elements of the unexpected are employed on Stéphane Roy's abstract rainforest set, featuring over 300 "trees," ranging from 15 to 35 feet tall, from which characters swing from or stand on while donning Eiko Ishioka's marvelous, colorful designs.
Varekai is everything a circus should be — there are no animals suffering backstage, and there is no room for the structures imposed by reality. It delivers a powerful adrenaline rush in what is the wildest, most mesmerizing night of entertainment you will find here or anywhere else on Earth. In fact, Varekai is filled with acts and imagery so magically potent that you have to see it to believe it.
Even then, it's still pretty unbelievable.