Rum, buggery and the lash sail into the Washington National Opera with Francesca Zambello's production of Benjamin Britten's sea-going epic Billy Budd. Alas, if only there had been some actual buggery t'would've been such a bonny night! Sadly, the climaxes are all allegorical, not actual.
Never mind. This is a fascinating piece, a thinking person's opera, well worth the price of admission just for the intellectual challenge. The story is based on a novella by Herman Melville, with libretto by novelist E.M. Forster. It aims to pit good versus evil in the form of the guileless Billy Budd and the menacing Master-At-Arms Claggart. Pivotal and yet ultimately helpless in the unfolding crisis is the Captain of the ship, Vere. That's really all there is to it plot-wise, the rest is philosophically up for grabs. Or not.
See, the thing about an opera like this — and what's so admirable about the Washington National Opera taking it on — is that you'll find it either a jumping off point for a long evening's contemplation of evil's need to destroy good, or you'll spend two and a half hours hoping Claggart finally bends Budd over the rails and gives him what's for.  In other words, you'll be riveted or bored beyond reason. There is simply no scope in the story or the libretto for compromise. That, coupled with the rather hokey and obvious homoerotic overtones, is bound to tweak the loyalties of the gala-going subscribers — and thus, you've got to hand to the company for taking the risk.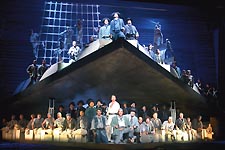 But all the risky stuff aside, there are still oodles of good solid conventional theater and singing to enjoy. The choreography of the sailors in, over, and around their schematic ship is a masterpiece of planning and visual interpretation. There is, all told, an awful lot of scuffling to and fro and yet somehow it never gets tiresome. And the scene in which the ship prepares for battle and all hands ready for action, is brilliantly conceived and executed.
The chorus — all men, all sailors — give the opera its best moments of atmosphere. They turn sea shanties into oceans of sound ebbing and flowing like the tides. Quite magical. Dwayne Croft in the title role sings with grace, gorgeous tone and some real gay abandon. What else can he do with such an odd role? He is meant to epitomize male beauty, both in soul and physique, with almost no characterization whatsoever other than appearing to be a fairly affable shlub. He aptly defies the gaps in believability with tremendous bids at expression during his "monologues."
Billy Budd
Presented by The Washington National Opera
Kennedy Center
Opera House
Sept. 30, Oct. 3
202-295-2400
www.dc-opera.org

Similarly, Samuel Ramey as Claggart and Robin Leggate as Vere work their single dimensions with intensity. Ramey has the hardest task as Claggart is denied any self-exploration; he is simply the Man Who Must Kill What He Would Bugger. Ramey embraces the personification, but it only just works. He gives Claggart no real angst; he is robotic and it draws some power from the central crisis of the opera. Leggate has the advantage of actually having some character development to work with and he provides some of the more conventional emotional moments. Despite the allegorical context, they are touching.
Finally, the WNO orchestra does a stupendous job with the score under the amazing baton of conductor Richard Hickox.
So, you may have heard the buzz about the WNO staging a gay opera and jump to go.  By all means, try it. Bear in mind, despite a few bare chests and some antiquated allusions to shipboard S&M, this is a long, inaccessible evening for most.