Jefferson Mays is going to die. The innocent seventeen year-old has been convicted of murder in 1948 rural Louisiana and now he must pay the price by electrocution. It's the first time the community of Bayonne will witness a black man strapped into death's throne, and it's up to reluctant schoolteacher Grant Wiggins to teach Jefferson how to die with his dignity intact.
That is, if he can convince his young pupil he isn't a hog.
Romulus Linney's historical drama A Lesson Before Dying is based on the Ernest J. Gaines novel of the same name, and its sad, academic lesson of false justice and humanity is delivered through a series of meetings between an impervious convict facing his impending execution and an educator already struggling with his own internal conflict. During his trial, Jefferson's lawyer turns against him by publicly denouncing him as nothing more than a hog being sent to slaughter. The psychological consequence is immense, and Jefferson himself begins to believe that he is a filthy beast, guilty of crimes he did not commit. He refuses to walk to his electric chair; he intends to crawl on his hands and knees as a pig to his trough. His godmother enlists the help of nephew Grant to teach Jefferson one final lesson before he meets his fate: "Teach him how to die, " she pleads.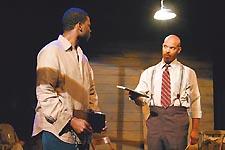 Linney — yes, father of actress Laura Linney — moves his Lesson forward with the slow and steady rhythm of a milling grind, painting strict characters with strict motives and strict modicums of behavior. Through David Charles Goyette's carefully-modulated direction, Gaines' textbook story comes to life as a powerful emotional stroll that lingers in the imagination long after its alarming crackles of electricity.
Although a few of his actors suffer through their Louisiana dialects with only modest success, Goyette has assembled a solid cast that deftly explores the developing conflict between a scholar battling his personal convictions versus an impatient theologian bartering for Jefferson's soul.
Jefferson A. Russell lends a stiff upper-lip mentality to the straight-laced schoolteacher who involves his class by having his students send pecans and storybooks to the county jail. While his floundering Grant may or may not be a hero, his sacrifice of time and emotion is well spent on G. Alverez Reid's Jefferson. Reid is every bit as strong-willed and iron-jawed as Linney's script outlines, but Reid also conveys a built-in reservoir of vulnerability that isn't as salient in his dialogue.
JoAnn M. Williams and Keith N. Johnson round out the cast as the sweet, attentive Aunt Emma, offering endless picnic baskets full of fried comfort foods, and the Gospel-peddling Reverend Ambrose, a preacher gravely concerned with Jefferson's eternal salvation. Dionne Audain also provides graceful distraction as the lovely Vivian Baptiste.
A Lesson Before Dying
To Oct. 10
ACTCo.
H Street Playhouse
1365 H Street NE
$20-$30
1-800-494-8497

Timothy J. Jones's scenic design features upright wooden panels painted with haunting images from the era, creating an effective ambiance when combined with David Lamont Wilson's period music and sounds. Wilson is able to evoke a very different place and time, transforming his audience from the here and now to the there and then. Dan Covey's impressive lighting also highlights the shadowy figures dwelling in Jones' bayou country.
Linney's Lesson tumbles toward its painful conclusion after an agonizing last meal in a very slow, very sturdy production. Gaines' sociopolitical commentary on the death penalty still resonates with a deep, dense sense of loss and resignation. And after a simple, knowing nod shared between Jefferson and his only mentor, we understand more through this mutual gesture than a million lectures and essays written on the subject.
---
She is supposed to be forty years old. "She " is actress Tiffany Givens in Trumpet Vine Theatre Company's seventeenth season opener, and in reality, she isn't a day over thirty.
This strange casting decision — as well as a host of other perplexing choices — marks the bizarre, ingratiating world of Josep M. Benet i Jornet's Desire, receiving its English premiere in a translation by "Catalan theatre specialist " Sharon G. Feldman. The result is a two-hour, intermissionless headache of a play with an obnoxious, frustrating storyline that goes nowhere and eventually dissolves into thin air.
Desire
To Oct. 16
Trumpet Vine Theatre
3700 S. Four Mile Run Dr.
Arlington, Va.
$20
703-912-1649

We know that a woman, She, leaves her summer home in the Spanish mountains of La Costa Brava for a brief shopping trip, and returns hours later distraught over the strange, surreal events of the day. We know She has been arguing with The Husband (Andrew S. Greenleaf), and that She has met The Man and The Woman (Anthony van Eyck and Laurie Sherman) on her drive to the store. We recognize the tiniest sliver of a lesbian romance hidden within the confusing dialogue and mind-numbing plot, and Ayun Fedorcha's lighting seems to indicate that She is receiving spooky telephone calls from the "other side. " Beyond that, what is happening on stage at any given moment is a frustrating guessing game filled with four dreadfully long, inexplicable monologues presented by a very presentational, stiff ensemble.
Unfortunately Paul Donnelly's direction does nothing to promote whatever thin line Desire treads upon, and as a result, the entire evening is lost in a downward spiral of forced staging and highly-affected, unnatural acting. The irritating, abstract dimensions of the script are best served by the only interesting element in the entire production, courtesy of Vincent Worthington's imaginative set. Worthington and company hauled in the complete front end of a sawed-off Mercedes Benz, an awesome visual for an unworthy piece of theater.