Watching Nilo Cruz's illustrious Anna in the Tropics as a born and bred native of the Tampa Bay area is brutal. But to anyone who has ever strolled down the Spanish streets of Tampa's historic Ybor City, it's evident that Cruz never visited the cigar-making district prior to composing his Pulitzer-winning play.
Oh sure, he did his research. But no matter how much time Cruz spent compiling data on the 1929 "small town " of Ybor City — which has always been more of a neighborhood or working community rather than a "town " — no practical history lessons can replace the experience and value of knowing first-hand the places or the people who comprise his tropical, romanticized version of central Florida.
For starters, Tampa is not Miami. But you would never know that from Cruz's textbook depiction of a flat concrete jungle with tall, sky-scraping buildings. In Cruz's Ybor City, the cigar factory workers escape to small, isolated city parks to visit trees and commune with nature. A brief glance at a 1929 map would prove a very different downtown layout and landscape. Unfortunately Anna's unrealistic setting in an imaginary town is only the beginning of the inaccuracies that plague Cruz's work of literature.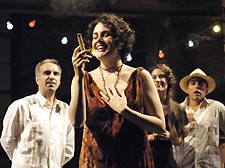 And Anna in the Tropics is indeed just that: a work of literature. A very literary story, told in very literary terms, Anna's characters speak to one another in dense, melodramatic language that resembles classic fodder from a lush romance novel or flowery poetry rather than originating from a hearty stage drama set inside a sweaty cigar factory. (Consider the lyrical description of a new smoking blend: "It speaks of forests, and of orchids. ") And that Cruz's family of Cuban immigrants also develops hyper-sensitive self-awareness should come as no surprise, either. Their ability to instantly analyze everything going on around them is simply another example of the currently popular trend (courtesy of that addictive devil known as reality television) that audiences have by now grown accustomed to: the impossibly enlightened self-musings of characters who could easily identify themselves on a Myers-Briggs test.
This annoying kind of insta-conscious is prompted by the arrival of Juan Julian (Jason Manuel Olazábal), a lector who has been hired by the factory owners to read to the busy workers each day. Fresh off of a boat from Cuba (literally, as demonstrated by the awkward opening scene), Juan Julian is the last of the revered lectors in a tradition that spanned decades of cigar rolling before the advent of machinery and technology that eventually outdated the human presence.
It is often surmised that radios rendered the lectors obsolete just before the Great Depression, proving a more sound economical investment. But history reveals that the true reason the lectors were unanimously dismissed, over the mere course of a few days, was for being too political, too outspoken, and for affecting too many changes among the uneducated and often illiterate factory workers.
In the play's family-owned and operated factory, Juan Julian has chosen to read Tolstoy's Anna Karenina, a cold Russian romance for the oppressive Tampa summer. The very presence of their handsome new lector, whose youth and virility is evident in his sensuous strut, affects sudden change in the lives of the family workers, and the ladies swoon while the men take notes.
Director Jo Bonney makes her Arena Stage debut with a slow, lifeless production that heats up to a boil in the second act, only to reach its absurd conclusion with little to no dramatic effect. Her cast, imported from New York stages, features a round of inconsistent Latino dialects and demonstrative acting. Only Mateo Gomez and Chaz Mena offer strong portrayals as the brothers who share their ownership of the factory with their love of gambling.
Olazábal offers a stirring vision of Juan Julian, but his reading and narration lacks a certain fiery passion that would move the women of the factory toward such uncontrollable desire. Marian Licha, Yetta Gottesman, and Michele Vazquez are the three women who bide their time rolling tobacco leaves while dreaming of snowy hills and fur-trimmed capes. Gottesman is most effective of the three as the sister who changes her hair and her life after a steamy affair with the lector, but her wispy style and intangible ardor for Juan Julian makes for a questionable interpretation of the impressionable Conchita.
ANNA IN THE TROPICS
Directed by Jo Bonney
Arena Stage's
Kreeger Theatre
1101 Sixth St. SW
To 11/21
$45-$59
202-488-3300
www.arenastage.org

Loy Arcenas has the right kind of windows for his dusty cigar factory set, but the clean, well-lit interior isn't as convincing. And while Scott Zielinski plays with strange, irrational lighting motifs, Darron L. West has crafted the most accurate element of the evening with his colorful music and sound design.
As anyone who has explored the contemporary nightlife of Tampa knows, Ybor City is by day a cultural mecca of closed cigar factories, Cuban eateries, and lovely Spanish architecture. After dark, Ybor comes alive as home to the mile-long stretch of nightclubs and tawdry bars that court Tampa's college crowds with endless dance remixes blaring out onto East Seventh Avenue. Still haunted by empty buildings of a bygone era, its legendary reputation as Cigar City is fictionalized in Cruz's bland, romantic rendering. His flattery and fauna pays sober, if less than practical, homage to the factory workers who toiled away daily at creating boxes of fine smoking sticks. At least Monica Lewinsky would be impressed.