Back when Steven Brinberg was in high school, his father confronted him with something he'd found in the boy's bedroom.
"This tape of Barbra Streisand singing has your name on it," the father said, "what's that? " To which Steven replied, "It's me. "
A career was born. (And a father probably had an inkling of his son's future sexuality, but that's another story.)
Brinberg, a singer and actor, has been performing as Streisand for over a decade now. And tonight through Saturday, he'll be prominently featured as a guest artist in the National Symphony Orchestra Pops tribute to the music of Streisand, conducted by Marvin Hamlisch.
"Steven's wonderful [as Barbra]," says Hamlisch. "He does her in wonderful taste."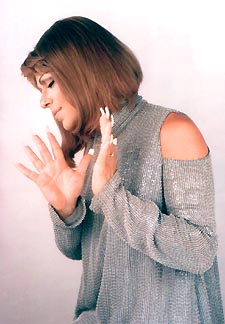 Brinberg
Hamlisch should know, having worked with the real Streisand on several occasions — including as musical director for her nationwide tour in the early '90s and as co-author of one of her signature songs, "The Way We Were." Hamlisch hand-picked Brinberg for the concert, and admits that employing a Barbra impersonator is somewhat "off the wall" for the Pops (soprano Julie Budd, who also sounds like Streisand, will perform as well).
Hamlisch is thrilled to pay musical tribute to his friend. "Barbra Streisand has been responsible for so many great songs," he says. "She's the Sinatra of female vocalists. The thing about Barbra is that without much trying, really, without much practicing, without much preparation, the woman opens her mouth and out comes this golden sound. And thank God for that."
"I've never actually met Barbra," says Brinberg. "But I'm told that she knows about me. I think she would like [my portrayal of her]. I'm not cruel. I don't cross my eyes. I'm not mean in any way.
"I have calculated that," he continues, "that in all these years of performing, I've stood on stage singing 'Evergreen' more times than Barbra has, mainly because she doesn't perform that much. That's kind of amazing to me. It's such a fun way to make a living."
Steven Brinberg will appear in the NSO Pops presentation of "The Music of Barbra Streisand" with soprano Julie Budd, conducted by Marvin Hamlisch, tonight through Saturday (Oct. 7-9) at the Kennedy Center Concert Hall. For tickets, call 202-467-4600 or order online at kennedy-center.org.