Punk rock icon Bob Mould had never DJed at a club before. But his curiosity was piqued when he noticed a top-of-the-line DJ rig collecting dust in a corner of Richard Morel's Takoma Park studio. Morel had never used it.
Unlike most dance music remixers, and despite a decades-long career as a dance artist and producer, Morel had never DJed before. He never wanted to, had no real interest in it.
It's been nearly two years since Mould convinced his friend that they should both step to the decks and throw a regular party "playing the music we like."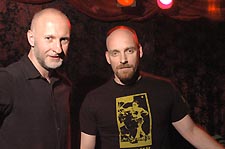 Music mavens: Mould and Morel
(Photo by Todd Franson)
That party, Blowoff, now happening twice a month at the 9:30 Club's narrow, basement Back Bar, has since taken on a life of its own. It's effectively blowing up.
"At first I wondered if we were promoting it enough," says Morel. "Now we're having to turn people away. I'm trying to figure out where half these people are hearing about it."
From the very beginning, Mould and Morel took a do-it-yourself approach to the party. They adopted a sassy name, one that stems from Mould's past experience as a writer for pro-wrestling. They decided not to advertise, relying instead on word of mouth. And they chose not to concern themselves with what crowd they'd attract.
"It's a constantly evolving thing," Morel says. Lately, bears have been drawn to the event. "I don't know if it's because I grew a beard or what," laughs Mould.
"At first [the bears] scared off some of the younger guys," he continues. "But now everyone's coming back." Mould says the crowd is drawn by the party's lack of attitude — "Nobody gives shade to anybody," he says — and by its primary focus on music not played at most of the other clubs in town. Last week Loretta Lynn, Boy George, U2, Le Tigre and Groove Armada all met on the dancefloor, alongside Mould and Morel's own music.
"At its core it's about the music," says Morel, "and that's the most exciting thing." Adds Mould: "We had hoped there were more guys and gals like us, homos who dig good house, rock and down-tempo music." Now that they've bagged a following, it's time for the next level. Early next year, Mould and Morel will release a full-length Blowoff artist album, and hit the road to promote it. And, as a way of showing thanks to its core homo home base, the two will perform for the first time as Blowoff at a special Thanksgiving Day party on the 9:30 Club's main floor.
Says Morel: "Getting out and promoting the record is something I'm really looking forward to."
The Thanksgiving Blowoff party will take place next Thursday, November 25, at the 9:30 Club, from 10 p.m. to 3 a.m. Tickets are $10. Visit www.blowoff.us.