As bruising as the 2004 election was to gay Americans, it's no time to grin and bare it, or to flee. Listen to your inner Beastie Boy: you know, fight for your right toÂ… marry.
Or so Le Tigre might suggest.
On its major-label debut, This Island, the self-labeled "feminist punk electronic music " trio takes its political bomb-throwing to new heights, working up a lather of pique at conservative politics in general and President George W. Bush in particular. "Better thank your brain-dead clientele/For all the money that you'll spend in hell, " the women spittle out in spiteful punk baby fashion on "Seconds. " The closest thing to a chorus is the song's shouted line, "You make me sick, sick, sick, sick, sick! "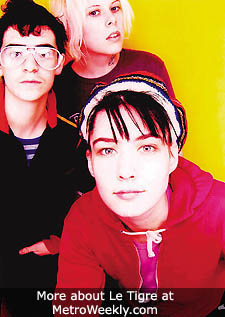 Le Tigre
As much as the trio may conjure the Beastie Boys in attitude — and as much as it may make you think — Le Tigre stands to become this year's equivalent of Junior Senior, the playful party-pop band that unites the gay community. Or more precisely, the "queer " community. And let's be clear here: even though the group often sings about gay rights and gay visibility, only J.D. Sampson is actually a lesbian. Kathleen Hanna and Johanna Fateman identify as "queer, " even though they're sexually attracted to boys (Hanna's longtime boyfriend is Beastie Boy Adam Horovitz). Thus, Le Tigre, like kindred hipster spirits Junior Senior and especially the Scissor Sisters, have natural appeal to every blue stater — or those of a blue-state kind of mind.
Yes, Le Tigre is angry, and angrier than it was on its previous releases, but then no doubt most of its liberal fans are angrier, too. The stepped-up anger on This Island only works to deflect charges of the band selling out. It also works to make the whole project, with its unabashed '80s dance-pop sonic sensibility, that much more appealing. There are plenty of moments of glee, enough so that the trio's loving cover of the Pointer Sisters' "I'm So Excited " is the opposite of the misstep one would expect.
The '80s are well-represented here, including The Cars' frontman Ric Ocasek producing the album's most-polished track, "Tell You Now. " The song adroitly progresses from the slow-burning shock of being spurned to full-steam anger at being used — and then expected to be quiet about it. "You didn't do a thing 'cept made me hate myself and made me fear everything, " they sing. Sure, it's most obviously about a bad breakup. But it could also serve as a defiant response to the work of successful anti-same-sex marriage amenders, and calls post-election to heal the political rift that divides the country.
"You thought I'd run and hide/And keep it all inside/How can you see me/And think it's all right? " Karl Rove, are you listening?
Another New York female punk-inspired electronic music group, Spalding Rockwell, comes on strong on its accomplished debut, Kate. But its focus is to provoke through sex and sexual politics — and sexual humor. (Sample lyric: "Lick my legs in stereo rhythm. ") This duo, of Marie Louise Platt and D.C.-native Nicole Lombardi, is far more rock 'n' roll (and more Missy Elliott-style hip-hop) than Le Tigre, and that sound serves them well. The album drips with sexual heat and edgy erotic energy. Among other female artists, Spalding Rockwell often recalls electro-pop purveyor Miss Kittin. But the Rockwell duo makes sure its choruses are tight and melodic, its overriding song structures strong, and the vocals and lyrics never annoying or pretentious.
"He was six-foot-four, two-hundred-and-ten, " they begin the yearningly minimalist "Boy, " one of two tracks co-produced with Larry Tee, the pioneer behind the recent '80s-style electro-pop revival. "He was all over nutty so I tasted it twice, " they leeringly continue, before launching into their catchy "I just can't get enough " chorus. They never go over-the-top vulgar, and they only rarely fail to impress, a feat that cannot be overstated for an upstart, mostly self-produced band on an unknown label.
These women live up to their name, as hokey as it is to say. They rock well.