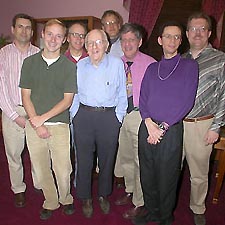 Members of the Gay and Lesbian Activist Alliance
ORGANIZATIONAL MISSION: Founded in 1971, GLAA is a local, all-volunteer, non-partisan, non-profit political organization of approximately 150 members that advances the equal rights of gay men and lesbians in Washington, D.C.
GENERAL DESCRIPTION OF THE GROUP'S MOST COMMON ACTIVITIES: GLAA members meet regularly to discuss the group's agenda, which includes lobbying, research, drafting legislation, watch-dogging district agencies, etc.
HOW TO JOIN: Membership form is available at the group's Web site, www.glaa.org. Contact equal@glaa.org
BACKGROUND: As the nation's oldest continuously active gay and lesbian civil rights organization, the GLAA has a rich history. The group evolved from the first political campaign by an openly gay person for political office, specifically Frank Kameny's bid to be D.C.'s delegate to Congress in 1971. While Kameny didn't make it to Congress, his supporters turned the campaign into what is now GLAA. Kameny remains active in the group today. Rick Rosendall, the group's vice president for political affairs, moved to D.C. in the late '70s after graduating from Villanova University. Once here, he says, he contacted Kameny, with whom he was already acquainted, and joined GLAA (then GAA). "It's a very large commitment," says Rosendall. "We have a passion for fighting for civil rights. If you weren't the least bit interested in political-type things, you wouldn't have any reason to do this kind of work. There is something that drives you to the fight, to push and to prod."
NEXT EVENT: Group meeting, Nov. 23, Charles Sumner School, 17th and M Streets NW.