Just when you thought you knew Ebenezer Scrooge and his shopworn miserly antics, just when Charles Dickens seemed a safe bet for an evening filled with holiday didactics, and just when you were smugly certain that poltergeists and specters are the stuff of Halloween exploits, the folks at Ford's Theatre reach in to their cauldron to serve up an eggnog brew with spices of a different variety.
Dickens himself might approve of Michael Wilson's 1990 adaptation of his 1843 classic. After all, it's still the same overnight odyssey detailing the transformation of a repentant Scrooge, and it still captures the essence of English poverty and politics in the middle of the 19th century. But for modern audiences, A Christmas Carol: A Ghost Story of Christmas seems more mischievous and more surreal than any typical Dickensian tour.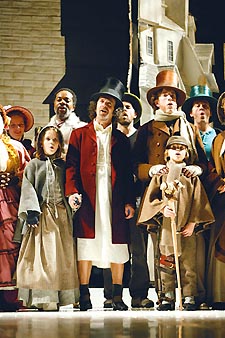 In a world that looks less like a Dickens novel and more like a sprawling cross-section of the denizens of Oz with the imaginary villages in a Tim Burton film, Wilson begins his ghost story with a brief introduction to Dickens as author. Martin Rayner, before his immediate renovation as Scrooge, is a stoic Dickens, establishing his Carol as a reading before quickly disappearing by candlelight, not to be seen or heard from again in the course of the evening. It's a bizarre narrative device that does nothing to further advance or enhance Wilson's script, a dynamic adaptation that will delight children with its whimsical aesthetics and puzzle adults who are accustomed to a more deferential version of Dickens' timeless story.
Wilson takes more than a few liberties with the original plot, introducing the three notorious ghosts –Christmases Past, Present, and Yet to Come — as London merchants and street vendors deeply indebted to Scrooge, which makes for an interesting psychological analysis of crotchety old Ebenezer. Freud would have a field day with all of the intentional doubling of characters.
The special effects abound, from Alix Elias' slow sail down from the ceiling to dancing snowmen to Jacob Marley's killer, Krueger-like claws. G.W. Mercier's versatile scenic design, punctuated by Fabio Toblini's colorful costumes and frilly frocks, allows for plenty of stage pageantry, including a vibrant Maypole for December celebrations.
But perhaps the most impressive technical element comes from the exceptionally effective sound design from Michael Creason. Creason's carefully modulated echoes, moans and noises from the Great Beyond evoke just the right sense of awe, as chains rattle and various "things " go bump in the night.
Under Matt August's economic direction, the focus never strays from all things imagined, and his competent cast is left to carry this modernized Carol under their wings. Rayner's Scrooge is capable of displaying all the usual suspects of his reliable demeanor — the more "dismal and morose " he seems, the more we believe him. But the spotlight here is fixated on a variety of side characters and peculiar visions instead of resting on the stubborn accountant at the center of their quibbles.
A Christmas Carol
To 1/2/05
Ford's Theatre
$25-$48
202-347-4833

Clinton Brandhagen and Saskia de Vries turn in tender performances as Scrooge's nephew Fred and Mrs. Fred, and Claudia Miller delights with several comic moments as both Mrs. Dilber and Mrs. Fezziwig. Tiny Tim is shared by pint-sized Thespians Kent Jenkins and Justin Pereira, but the young optimist has less to do in Wilson's adaptation than in most other familiar incarnations.
The omission of abundant Christmas revelry and holiday traditions has been zealously replaced by a contemporary carnival spectacle that offers no real remedy for those seeking ye olde Christmas cheer. Instead we are distracted — at least for one year — by a nouveau Dickens that doesn't live up to its predecessor. Return to the humor and sentiments of David H. Bell, please. We'll take the old costumes and sets, the same old recycled lines and the vintage holiday carols we've all heard a thousand times before. At least it will feel like Christmas again.