If you listen to just one randomly chosen song by the Thievery Corporation, you might think the musical duo is from, among other places, Jamaica, the U.K., Brazil, India or Nigeria. But if you listen to a full globe-spanning album from the duo of Rob Garza and Eric Hilton, including its fourth and latest, it'll hit you right away.
These guys are clearly from Washington.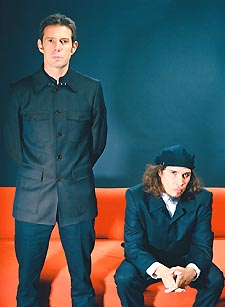 Liberal leanings: Theivery Corporation
That is, Washington at its most intellectually, diplomatically ideal: a multicultural hotbed of ever-fresh ideas from a diverse and well-traveled populace that never stops thinking about and working for a better world. So what if it's not real? Like an empathy drug, a Thievery Corporation album helps you get lost in your liberal imagination. The world seems full of promise, at least for an hour.
While it's ultimately hopeful though, Thievery doesn't make music for you to feel better about humanity, or as a backdrop to while away an evening imbibing. Oh sure, Garza and Hilton may live and nourish the high life. Hilton's achingly trendy Eighteenth Street Lounge, for example operates from a plush but semi-secret location in Northwest D.C. where only those in the know go. But over the duo's stylish melodies and refreshing beats the lyrical artillery flows. "Well let's start by making it clear who is the enemy here, " goes the start of "Marching the Hate Machines, " which launches the album in a haze of Vietnam-era psychedelic sounds, courtesy indie-rock band The Flaming Lips. It's a deceptively sweet song about the military.
Though it's unmistakably Thievery, The Cosmic Game is only very loosely connected to the electronic chill-out sound that the duo helped pioneer over the past decade. The two have recoiled from association with the chillout label from the beginning, probably because it's far more associated with being fashionable than being socially conscious. Thievery strives to be both, but each album since Sounds from the Thievery Hi-Fi has shown the two growing more and more musically conscious as well, adding non-electronic instrumentation to the mix. And they've never sounded better and more natural than on The Cosmic Game.
The album sees them expand their usual guest-star lineup to include several rock icons. They collaborate most successfully with fellow world-music traveler David Byrne, of the seminal new-wave band Talking Heads. Byrne weaves a paranoid tale, accentuated by his characteristically strange delivery, on "The Heart's a Lonely Hunter. " "Welcome to my spaceship, " he sings, over horn-propelled Afro-beat polyrhythms. "It's beautiful forever/Well she's right here where you left her, and her heart's a lonely hunter. "
Sometimes Thievery's music comes across just like that beautiful, lonely spaceship, just waiting to whisk you away to view the world from the cosmos, to see the damage done — and to identify where to start the repairs.
The latest album from Monade — A Few Steps More — comes across like a hit of Ambien. A four-piece band fronted by French-born Laetitia Sadier, best known as the soft yet icy-voiced lead singer of the British band Stereolab, forsakes catchy melodies and compelling beats altogether. The press notes says the album is "distinct by its more considered approach and spare arrangements [with] minimal percussion and the understated playing of the band. "
Spare, minimal, understated: all code words for utterly forgettable. The album's 12 tracks come and go without a trace, leaving no memory. If you can stop time and listen as it goes by, almost without exception you'll be left puzzled at just how the band's clear bossa-nova influence could result in such a lackluster execution.
Sadier doesn't help matters with her voice. It often sounds like a clarinet in need of a new reed. And she continually sings at the top of her register, straining to hold the high notes, when she should instead concentrate on her very pleasant alto base.
I'd rather be asleep.