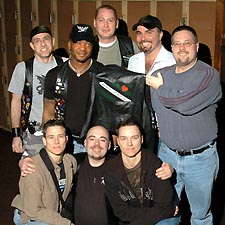 Members of D.C. Boys of Leather
ORGANIZATIONAL MISSION: Founded in 1999, D.C. Boys of Leather provides leatherboys a forum in which to have fun, learn, educate, socialize, contribute and support each other and their community. They have 15 active members, four pledges and 25 associates.
MOST COMMON ACTIVITIES: Leather-education workshops and bar nights to raise funds for Brother Help Thyself and Pediatric AIDS Foundation.
HOW TO JOIN: Full membership is by invitation. Applications for pledge and associate membership are available at www.dcboysofleather.org.
BACKGROUND: What exactly is a leatherboy? According to Boy Ky, president of the D.C. Boys of Leather — the first club of its kind — the term is completely subjective.
"We don't have a definition. We're open to anyone of legal age, anyone who self-identifies as a 'leatherboy,'" Ky explains. "I can tell you what a boy is to me, but it varies from member to member. We run the gamut. We've had several non-bio-boys [non-biological males]…. [M]ost of the boys are submissive. There is a quality, an innocence, you can spot a mile away."
CONTACT: president@dcboysofleather.org
NEXT EVENT: Open meeting, Sunday, April 10, 4 p.m., D.C. Eagle.