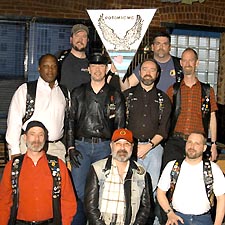 Members of the Potomac Motorcycle Club
(Photo by Todd Franson )
MISSION: Founded in 1992, The Potomac MC serves as a social, educational and fundraising organization for men with like interests. There are currently 12 active members and more than 30 associate members.
MOST COMMON ACTIVITIES: The Potomac MC's twice monthly bar nights, usually benefiting Brother, Help Thyself. The next bar night is at Titan on Sunday, March 13, from 9 p.m. to close.
HOW TO JOIN: New members must be invited to join, following a pledge period and other requirements.
BACKGROUND: Despite the group's name, Potomac MC President Mike Newsome admits that only he and one other member actually own motorcycles. After all, Newsome says, the whole point of the club has less to do with the trappings, and more about having a good time. "We don't take ourselves too seriously," he says. "We kind of like to pride ourselves on being a small, non-confrontational club…. [Our members] aren't required to be motorcycle riders. We just look for people who are free-spirited, have a little bit of a wild side and a sense of humor. We basically have a lot of fun with low levels of drama."
CONTACT: potomacmc@hotmail.com