So many of my friends have an anti-American bias when it comes to cars, reflexively disparaging anything that comes out of the Big Three automakers in Detroit. Given the track record of those corporate behemoths over the years, it's not that surprising.
Take Buick, the middle-of-the-road line from GM. Just last summer I drove a Buick Century rental while on vacation, and became intimately reacquainted with why, exactly, American cars — particularly sedans — generate such condescension among certain groups (i.e. gays who swoon only for BMW, Honda and Toyota). A bouncy suspension, high cabin noise, and handling that wouldn't be out of place on a Carnival cruise ship all combined for serious highway aggravation.
So I experienced some trepidation as I approached my week with the new Buick LaCrosse, a sedan built to replace the Century (and not a moment too soon). Billed as a "premium" mid-sized sedan, the LaCrosse is part of Buick's attempt to reestablish itself as a respected purveyor of affordable, close-to-luxury automobiles.
Some of the buzz from Buick on the LaCrosse was that the car would be a competitor with the Lexus lineup. That's a little ambitious — the LaCrosse really ends up competing with well-equipped Accords and Camrys, and Buick comes out surprisingly well.
On the outside, the LaCrosse sports a supple and curvaceous new look that clearly separates it from the boxier blandness of Buicks past. I'm not the biggest fan of that ovoid Buick grille, but it works better here than anywhere else in the line-up, and using it as a motif throughout the exterior and interior creates a welcome and pleasing design coherence. The LaCrosse is a big step forward for Buick in the looks department (here's hoping it spreads throughout the division).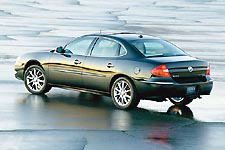 With the new LaCrosse, Buick brings a much-needed sense of style to its sedan line-up
The interior is nice — nothing too fancy, nothing too cheap. One thing that does bug me about American cars is dashboard design — they too often look chunky and out-of-date. The LaCrosse deftly handles the combination of tan and black with a bit of chrome without looking tacky. However, while the center stack console controls look nice, they're not that easy to use while driving — too small for big fingers, they take your eyes from the road for too long.
The LaCrosse I tested was adequately powered for what a sedan should do — comfortably maneuver through traffic and merge onto highways. At its heart, the LaCrosse is still a big American sedan. The handling, while defter than one might expect from past experience, has yet to become agile. When getting around tight spaces like a parking garage it can start to feel a bit lumbering.
Overall, the LaCrosse is a worthy effort that brings more style to the table than I would have expected, as well as a more pleasant driving experience. It's not quite the knockout punch needed to bring around the Japan-o-philes and Euro-snobs, but breaking perceptions is a tall order for any brand. I still have trouble picturing myself regularly sitting behind the wheel of a Buick (though a Cadillac CTS is a another story entirely). But I'm certainly more open to the option now than I was before.
2005 Buick LaCrosse
MSRP: $28,335 (as tested: $32,990)
EPA est. MPG: 16 city/22 highway
Highlights: Sets a new standard for Buick sedan design, and
should attract at least some buyers who previously dismissed the brand
Lowlights: Handling is floaty and there's not much road
feel, leading to an overly sedate driving experience

Last December I spent a week in Pontiac's latest attempt to take on the Accord and Camry, the G6. While I liked the look of the car's exterior, I wasn't so hot on the interior. I also bemoaned not getting a model with the distinctive four-panel sunroof that opens up the entire cabin to the sky.
I got another few days with the G6, this time with the sunroof. Most sunroofs seem like an afterthought — this one actually feels like a feature I'd pay for. If you need more open space than this, you might as well get a convertible. That said, I still have misgivings about the interior — chunky and cheap are words that come to mind — but from the outside the G6 is simply the best-looking car Pontiac's produced in a long time. If the interior catches up, the G6 will be an all-American steal.