August Wilson doesn't just sit down and write a play. He delicately composes a small symphony of musical prose, a theatrical retelling of history as seen through the eyes of black America in each decade of the 20th century. His scenes build and build and build to a robust crescendo, then dissolve into lingering notes from his unique form of linguistic melody.
Wilson picked up his second Pulitzer Prize for Drama in 1990 with The Piano Lesson, an exploration of the Charles family's bittersweet and bloody past. With his fingerprints smudging the keys of his symbolic upright, Wilson meticulously orchestrates the emotionally urbane story of sibling rivalry in 1936 Pittsburgh, where brother and sister share different intentions on how to honor their own historical legacy.
An ornately carved piano looms in a questionably dark corner of Doaker Charles' row house parlor, a home he shares with his widowed niece and her daughter. Nephew Boy Willie wants nothing more than to reap a small fortune from that rotting piece of wood — if only sister Berniece would consent to sell it. But despite his best efforts and most compelling arguments (he wants to sell the piano so that he can buy his own plot of land in the South), Berniece won't budge. And so the history of the family's most important heirloom rumbles to life in a dramatically extravagant rendering of the inheritance of slavery and how to navigate through a past that isn't through navigating you.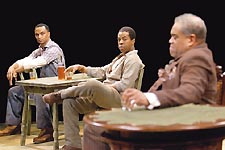 Seeking opportunity: Cofiel, Watson and Strother in 'Piano Lesson'
Photo by Scott Suchman
Rich with its own brand of natural chemistry and Wilson's signature elements of the supernatural, The Piano Lesson doesn't feel much like a play at all. Rather, it's an intimate look at a strained family struggling to reconcile two broadly opposing ideas. Wilson's realistic dialogue ricochets back and forth between idealism and practicality, past and future, and the dueling energies of male and female ideology.
The Charles' family home in the Hill district is summoned on stage by designer Kate Edmunds, who does a marvelous job building invisible walls between hallways and rooms, while Linda Cho's spirited period costumes whisper details of a forgotten era, when women wore slips and heels and men donned fanciful socks.
The Piano Lesson
To May 15
Arena Stage
1101 Sixth Street SW
$45-$59
202-488-3300
www.arenastage.org

Over the course of three thoroughly absorbing hours, director Seret Scott invokes a round of fierce performances from a solid cast of eight. Jeorge Watson fits Boy Willie like a calloused hand sliding into its padded worker's glove. Watson's Willie counters Harriett D. Foy's brilliant and steadfast Berniece with a steel jaw and a defiant glare. Foy and Watson are the highlights among a focused cast that includes star turns from David Emerson Toney, Carl Cofield, and a brief but memorable appearance from Tymberlee Chanel as local hussy Grace.
But no one fills the Fichandler Stage with more raucous energy and life than Frederick Strother, who knows how to act up as Wining Boy. Strother has a good time as Wilson's drinking gambler, and as a result, so does the audience. Though Wining Boy and Boy Willie must learn lessons from their past the hard way, Scott's captivating production of The Piano Lesson easily teaches more than how to tickle the old ivories.
---
Wilson knows firsthand the important objectives he seeks to impose, while Yasmina Reza's Life x 3, a strange trio of discombobulated scenes, attempts to deliver some tidy message of profundity and purpose, but ultimately fails to achieve anything more than a pointless evening of half-hearted comedy. The problem may reside somewhere in Christopher Hampton's clumsy translation, but Lou Jacob's maudlin direction doesn't help guide the effort toward any kind of artistic resolution.
Three very similar scenarios are executed with three very different outcomes in Reza's comedy, a living room romp through an evening spent with two pretentious Parisian couples, each volleying for their own strategic placement in the conversation.
Married parents Henry and Sonia entertain Henry's boss Hubert and wife Inez an evening too late, or too early, depending on the perspective. Of course that's Reza's point, that everything in Life hinges on perspective and attitude, as Hubert must decide how to relay an important piece of information to Henry, a scientist on the brink of publishing research on the flatness of intergalactic halos. In turn, Henry must decide how he will react to the (seemingly) unfortunate news. Those who are fascinated by "The Butterfly Effect," take heart.
As the men talk geek and the women exchange casual barbs, Lindsey Spencer provides the evening's most vivid entertainment, wailing offstage as the son whose bedtime demands include more cookies, apples, water, chocolate fingers, hugs and Cheez-Its. David Fendig makes the most of the frantic Henry, who lunges from "absurd euphoria to absurd melancholy " without a moment's notice, while Chandler Vinton's Sonia manages her son with all of the professionalism and impersonal posturing of an office executive. Kathryn Kelley is delightful as Inez, especially when delivering a nebulous monologue about the relativity of mankind to the universe with surprising efficacy. And Paul Morella's smarmy astrophysicist is a loathsome predator sipping his Sancerre.
Despite the cast's best efforts to evoke Reza's prickly humor, Jacobs stages the first scene for physical laughs, resulting in a cold response from an audience who hasn't yet discovered the characters and their motives. The second scene is a soapy, melodramatic affair, and while the final scene slowly revolves on James Kronzer's smart and stylish set, it fails to evolve beyond its clichéd material.
Reza's imperfect comedy is best when she lets the pointed insults fly, but her Earth-bound sketch of four numbed souls learning empathy through trial-and-error is a lumbering disappointment.