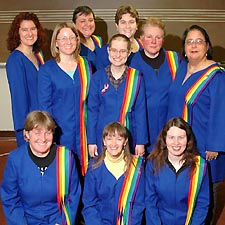 Members of Bread and Roses
UPDATE: 1/20/2010 — This organization is now known as Fortissima.
MISSION: Bread & Roses Feminist Singers strive for musical excellence; project a message of feminism, social justice and peace; broaden the group's repertoire and increase musical skills; and enjoy making music together. The group began in 1978 as the D.C. Area Feminist Chorus. The name changed in the early '90s.
GENERAL DESCRIPTION OF THE GROUP'S MOST COMMON ACTIVITIES: Weekly rehearsals, regular performances, and singing at Capital Pride.
HOW TO JOIN: Membership is open all sopranos and altos at any level of musical experience.
BACKGROUND: Bread & Roses Feminist Singers might strike some as a women-only group. Carol Wheeler, with the group for more than a decade, insists that's not the case. All one needs to join is a voice within the group's range and feminist politics. "Our politics are still a very important part of what we sing," says Wheeler. "If you're a conservative Republican, you might not be happy." Aside from politics and singing, the 13 current members form strong bonds with one another, adding a third incentive for like-minded people to join. "At one point," she says with a laugh, "someone told us we were a support group who sings."
NEXT EVENT: 27th Anniversary Concert, May 12, 8 p.m., National City Christian Church.
CONTACT: Visit www.dcbreadandroses.org or call 703-205-9060 or 202-265-8845 for more information.